The 9 Best Yoga Mats on a Budget: Top Affordable Picks for 2023
One of my favorite things about practicing yoga is that it requires minimal equipment, with the one essential item being a yoga mat. A quality mat provides cushioning and support while also creating a non-slip surface to ensure safety during poses and transitions.
Disclosure: There are affiliate links in the below article which means if you make a purchase after clicking on one, I may earn a commission. Full disclosure here.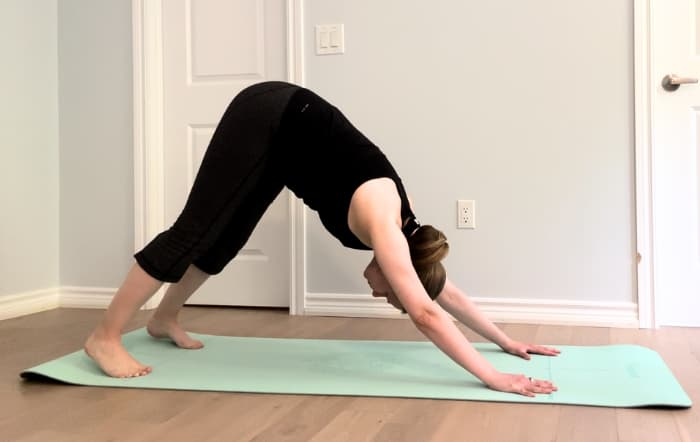 But the yoga mats can get pretty darn expensive, so finding the best yoga mat on a budget can be pretty overwhelming. Several factors come into play when considering a perfect yoga mat, such as thickness, material, size, and texture. If you're seeking an affordable option, it's crucial to find a yoga mat that balances budget-friendly pricing with features that cater to individual preferences and needs.
I've been a yoga enthusiast for years, but recently needed to find a budget yoga mat of my own so that I could practice yoga on my lunch hour in my home office (FYI, I highly recommend the Asana Rebel app for home yoga!), so I've been through this myself!
To save you time and effort, I'm giving you all my research so you can find the best budget-friendly option to enhance your practice without breaking the bank. The next section presents my top picks that offer a perfect mix of affordability, quality, and performance, helping make your decision a little easier. (Or if you want a list of the top picks in general, you can read my round-up review of the best mats in 2023.
My Top Picks:
Best Yoga Mats on a Budget
1. UMINEUX Yoga Mat Extra Thick 1/3" Non Slip
This is my own mat that I bought after all my research. It's a great affordable option for yoga practitioners looking for functionality and eco-friendliness.
Pros
Eco-friendly TPE material
Double-sided non-slip design
Optimum thickness for all levels of Yogis
Cons
May experience some hand sliding in specific poses (down dog in particular)
Standard 24″ width may be narrow for some
Not recommended for use with shoes or pet interaction
I recently bought the UMINEUX Yoga Mat and really appreciated its eco-friendly TPE material that made my practice feel more environmentally conscious. It's very lightweight and easy to roll up, plus the provided carrying bag was a nice touch. I simply love the mint green and gray color option – It's beautiful and adds a pleasant aesthetic to my sessions.
The mat comes with a double-sided non-slip design, keeping me steady during most poses. However, I noticed some hand sliding in downward dog, but it wasn't too bothersome. I enjoyed the cushioning – it's perfect for protecting my knees without sacrificing stability.
As for the alignment markers, they've been incredibly useful during my practice. I find myself constantly checking if my hands and feet land where they should, and I appreciate how it helps improve my poses.
One thing I would've liked is a slightly wider mat. The standard 24″ width works well for most, but if you prefer a bit more space, consider looking for a wider option. Additionally, this mat is designed for barefoot exercises, so keep this in mind if you want a mat that'll be suitable for workouts with shoes or pets around. (I've got to lock my cat Molly out when I practice – her hair does cling to the mat!)
Overall, the UMINEUX Yoga Mat is a great mat and my top budget pick, offering quality and aesthetics without breaking the bank. (It's also one of my top picks for yoga mats you can use on carpet.)
2. Gaiam Essentials Thick Yoga Mat
I highly recommend Gaiam mats for anyone looking for a budget-friendly yet comfortable yoga mat.
Pros
Great for all types of exercise routines
Extra thick for joint cushioning and support
Includes a convenient carrying strap
Cons
Not the most durable, may tear with long-term use
Slight odor upon unwrapping, requires airing out
Can be slippery for some high-intensity exercises
Gaiam is a reliable brand, and though their mats tend to be on the basic side, they perform well for the price. This particular Gaiam mat also is extra thick, providing much-needed cushioning and support for your joints during various yoga poses.
However, the mat isn't as durable as some other options on the market. After consistent use, there is a tendency for it to show signs of wear and tear.
One minor issue you might experience is a slight odor upon unwrapping the mat. Fortunately, airing it out overnight usually resolves the problem, according to most users. When it comes to high-intensity exercises, the mat can feel a bit slippery, which may not be suitable for particularly sweaty sessions.
Overall, the Gaiam Essentials Thick Yoga Mat is an affordable and functional choice for those on a budget with comfort as a priority. Just make sure to air it out after purchase and be mindful of the long-term durability.
3. Amazon Basics 1/2-Inch Extra Thick Exercise Yoga Mat
This Amazon Basics mat is a vibrant and comfortable mat perfect for those who want extra cushioning and a budget-friendly option.
Pros
Excellent cushioning for knees
Vibrant color and appealing design
Good value for the price
Cons
The extra cushioning provided by this mat is perfect for those with sensitive knees or those who prefer more padding during their yoga practice.
The mat's textured foam construction not only offers better traction and stability but also feels soft and kind on the knees. In addition, its size – 74″ inches long – provides ample length for a variety of yoga poses and stretching exercises. Plus, the vibrant purple color adds a pop of brightness to our workout space.
However, there may be a few drawbacks to using this mat. Additionally, the foam material can be easily scratched, so users with long nails or rings should be cautious while using this mat.
In conclusion, the Amazon Basics 1/2-Inch Extra Thick Exercise Yoga Mat is an excellent choice for those who need additional padding and value affordability.
4. Vione Hot Yoga Mat Non Slip
This Vione mat is the one I almost chose, and I highly recommend it if you're looking for great grip and stability, making it ideal for hot yoga practice on a budget.
Pros
Exceptionally grippy texture
Larger size than most mats
Made of durable natural rubber
Cons
Slight natural rubber smell initially
Heavier to carry around
Might not be suitable for those allergic to natural rubber
Anyone I've talked to who's tried the Vione Hot Yoga mat was impressed with its performance. The natural rubber material provides incredible grip due to its bumpy texture on the back side, making this mat the grippiest on my list. It's significantly more stable than other foam mats like PER, TPE, EVA or PVC material.
Whether practicing on a hard floor, wood floors or carpet, the mat will stay securely in place, ensuring a safe and stable practice.
The Vione mat is also larger than other mats, measuring 72.8″ x 26.8″, which gives you ample space for practice. This rubber mat's 4.5mm cushion is the ideal thickness for supporting joints while still maintaining a connection to the ground. The top layer cushioned mat is made of suede PU, which is excellent for absorbing sweat and quick drying. It's also designed not to wrinkle, rip, or scratch easily, ensuring a long-lasting mat.
While you will appreciate the durability and performance of the natural rubber material, it does have a slight odor that takes some time to dissipate. Also, the natural rubber mat is heavier than its foam counterparts, making it a bit cumbersome to lug around. If you have a natural rubber allergy or sensitivity, this may not be the right mat for you.
Also, if you live in Canada, this mat is more expensive, making it a less budget-friendly option. (Sigh.)
The Vione Hot Yoga Mat offers excellent grip, stability, and durability at an affordable price, making it an ideal choice for those seeking a high-quality mat on a budget. Just be prepared for the initial odor and a bit of extra weight when moving between your home and yoga studio.
I will say that if you are able to spring for a higher-quality mat, you should check out this list of recommendations of mats for sweaty yoga sessions.
5. IUGA Yoga Mat
I recommend the IUGA Yoga Mat for budget-conscious yoga enthusiasts because of its eco-friendly material, non-slip surface, and added carrying strap.
Pros
Eco-friendly TPE material
Non-slip textured surface
Includes a carrying strap
Cons
May not be suitable for hot yoga
Lingering odor
Narrow width
Most users' experience with the IUGA Yoga Mat is positive for the most part. You'll definitely appreciate the eco-friendly TPE material, as it is SGS certified and latex free, making it a more sustainable option compared to standard yoga mats.
Aside from being eco-friendly, the material also provides a good amount of cushioning, meaning your joints will feel supported during practice.
The unique "bone" pattern on the underside ensures the mat stays put on the floor, contributing to its stability. Additionally, the carrying strap makes transport hassle-free, which is a bonus for those always on the go.
However, the IUGA Yoga Mat isn't the best yoga mat choice for hot yoga classes or particularly sweaty sessions. The grip on the surface tends to become less effective once moisture is introduced. Another drawback is the lingering odor, which may be bothersome for some, but it does fade over time. Lastly, the mat is on the narrower side, which might be a concern for those who prefer a larger surface area for their practice.
It's particularly suitable for those who practice regular yoga and don't require anything too specialized.
6. Ewedoos Eco Friendly Yoga Mat
I highly recommend the Ewedoos yoga mat for its eco-friendliness and convenient alignment lines, even if it's a bit on the thin side.
Pros
Eco-friendly TPE material
Body alignment system for accurate positioning
Double-sided non-slip surfaces
Cons
A bit thin at 0.25 inches
Needs extra care when cleaning
May not provide enough cushion for sensitive knees
One of the things I love about this mat is that it's made from eco-friendly TPE material instead of traditional PVC.
It's also another mat that features a body alignment system, which comes in handy, especially if you're new to yoga and need a little reminder about where your hands and feet should be placed. The lines on the mat make it easy to ensure you're in the proper alignment throughout your practice.
However, the mat to be a little on the thin side at only 0.25 inches thick. Although it provides decent grip with its double-sided non-slip surfaces, it doesn't offer much cushioning joints on harder surfaces or hardwood floors. This may be something to consider if you have sensitive knees or plan to practice restorative yoga.
Overall, you'll likely enjoy using the Ewedoos Eco Friendly Yoga Mat during yoga sessions.
7. Feetlu Extra Large and Cushioned Yoga Mat with Strap
The Feetlu Yoga Mat is your top choice for budget-friendly comfort, ample floor space, and adequate grip during your workout sessions.
Pros
Excellent cushioning for joint protection
Extra long surface area for various floor poses
Eco-friendly and durable POE material
Cons
Slippery when used on certain surfaces
Carrying strap can be difficult to use
Slight odor upon unboxing
The Feetlu Extra Large and Cushioned Yoga Mat has a few remarkable features; its 10mm thickness offers great comfort and protection for your joints and knees during both minor and major exercise sessions, (which is why it's also one of my top mat picks if you struggle with bad knees.) This feature is highly recommended by fellow yoga practitioners who have also tried this mat.
The mat's material is not only eco-friendly but also durable, making it a reliable choice for consistent usage. With its long length (72 x 24 inches), there's plenty of room to perform various floor poses without feeling cramped. Additionally, the mat is available in great colors and is lightweight, which makes it perfect for carrying around.
However, despite its textured surface, the Feetlu Yoga Mat may not provide as much traction as other mats, especially on certain surfaces. It's still suitable for most yoga, pilates, and floor workouts, but it might require some extra care when practicing on slippery surfaces. Also, there is a slight odor upon unboxing, but it should dissipate over time.
Overall, the Feetlu Yoga Mat offers impressive comfort and protection while remaining budget-friendly.
8. Gaiam Yoga Mat Cork
The Gaiam cork mat is an excellent choice for budget-conscious yogis who value eco-friendliness and superior grip.
Pros
Sustainable and natural cork material
Best of the cork yoga mats for the price
Improved grip when damp or during hot yoga
Lightweight and portable
Cons
Plain design and relatively narrow
May not lay flat initially
Needs time to air out the smell after unrolling
I appreciate the Gaiam Yoga Mat Cork for its eco-friendly aspect and high-quality cork surface. User reviews claim that their hands and feet stuck to the surface even better as they got slightly sweaty, owing to the cork's natural grip-enhancing property. Hot yoga practitioners will especially benefit from this attribute!
Although the mat looks a little plain and is only 24 inches wide, the positive features certainly outweigh these minor issues. The mat is lightweight and easy to carry around, making it an excellent companion to our regular yoga sessions.
You may notice that the mat might not lay completely flat at first, with the ends slightly curled. This is a common issue with cheaper yoga mats but generally resolves itself with regular use.
In conclusion, the Gaiam Yoga Mat Cork is a fantastic budget-friendly option for those of us seeking an affordable, eco-conscious, and grippy yoga mat. Despite its plain design and initial flatness issue, it will do an excellent job of providing stability and support throughout your practice.
9. Nuogo 10 Pcs Yoga Mats & 10 Pcs Yoga Strap Set
This Nuogo set can be a practical choice for yoga enthusiasts on a budget who need multiple mats and straps.
Pros
Comes with 10 yoga mats and 10 straps in various colors
Non-slip TPE material
Durable polyester cotton straps with adjustable metal D-ring buckles
Cons
Mats are only 4mm thick
May not be suitable for advanced yoga practitioners
Slightly lower overall rating (3.1/5 stars)
Ideal for group yoga, you'll find this group of mats a convenient and budget-friendly option. Each set comes with 10 mats and 10 straps in vibrant colors like red, orange, green, blue, and purple. This variety adds a little fun to our workouts and makes it easy for everyone to choose their favorite color!
The mats are made of non-slip TPE material, which most people find to be safe and reliable for most basic yoga poses. Cleanup is a breeze with these, too – just rinse the mats with water and wipe them down with a cloth.
One downside is that the mats are only 4mm thick, so they might not provide enough cushioning for advanced yoga practitioners or certain poses that put more pressure on the joints.
The straps included in the set are made of durable polyester cotton material and feature adjustable metal D-ring buckles. You can use them for stretches and poses for additional stability and flexibility.
This Nuogo yoga mat and strap set offers a practical and affordable option for beginners to intermediate practitioners, especially if you're a yoga instructor equipping multiple users. But advanced yogis who need extra cushioning or support might want to look for a higher-end product.
Buying Guide
Price Range
When it comes to finding the best yoga mat to suit your budget, it's crucial to define a price range first. the best Affordable yoga mat options, such as the Amazon Basics 1/2-Inch Extra Thick Exercise Yoga Mat, can still offer excellent quality without straining your wallet.
However, if you want a mat that's going to last you a long time, you may have to spend more. Manduka mats, Jade mats, and Bmats are all great brands but cost considerably more money.
Thickness
The thickness of a yoga mat significantly impacts its comfort level. Yoga mats typically range from 1/8 inch to 1/4 inch in thickness. A thicker mat, like the UMINEUX Yoga Mat Extra Thick 1/3" Non Slip offers more cushioning, which can be beneficial for providing support to your joints during your practice. However, a mat that's too thick might make it harder for you to feel a strong connection to the floor, so it's important to strike a balance that works for your specific needs.
Material
Yoga mats come in several materials, each with its own set of benefits and potential drawbacks. PVC mats, like the Gaiam Essentials Thick Yoga Mat, are durable and usually more affordable, but they're not the most eco-friendly option.
A better choice is TPE mats, which strike a good balance between durability, price, and environmental impact.
Mats made of natural materials, such as the Gaiam Yoga Mat Cork, are sustainable and provide an excellent grip and are suitable for those with latex allergies. When choosing a new yoga mat, consider your personal values, needs, and potential allergies.
Grip and Texture
Maintaining balance during challenging poses or hot sessions requires a mat with good grip and texture. Vione Hot Yoga Mat Non Slip, for example, is designed to prevent slippage even in the sweatiest conditions.
Different materials can offer varying levels of grip, and some mats, like this one, are specifically textured to enhance slip resistance. Remember to choose a mat that aligns with your planned yoga routines – a hot yoga class may require a different level of grip compared to a more relaxed, meditative yoga style.
The good news is even if you get a mat and find you are slipping, investing in a yoga towel can help improve grip significantly.
Portability
Portability becomes a significant factor if you plan to carry your yoga mat to classes or on your travels. A lightweight mat or one that comes with a carrying strap or bag, like the UMINEUX Yoga Mat, can make transport considerably easier.
Easy to Clean
The cleanliness of your yoga mat is crucial for hygienic practice. An easy-to-clean mat, such as the Ewedoos Eco Friendly Yoga Mat, that can be wiped down or washed in a machine, depending on its material, can save you time and effort. Remember, maintaining a clean mat not only extends its lifespan but also contributes to a more enjoyable yoga experience.
Conclusion
I hope that my unfurling of these budget-friendly options helped you find the best affordable yoga mat for your purposes.
Remember, the best yoga mat on a budget isn't necessarily the priciest one but the one that best suits your unique needs and supports your practice. So, go ahead, and let your inner yogi shine as you step onto a mat that's just right for you. Strike a pose, breathe deep, and remember – the journey is just as important as the destination. Here's to finding your balance in more ways than one!
FAQ
Are expensive yoga mats really better than cheaper ones?
In general, you get what you pay for. My favorite mats are all more expensive brands. That said, these budget options will still serve you well without sacrificing too much in quality.
Can I use a thicker yoga mat for all types of yoga?
Thicker mats offer more cushioning, which is great for restorative or Yin or yoga practices where poses are held for longer periods. However, for styles like Ashtanga or Vinyasa that require more balance and stability, a thinner mat might be preferable.
I have a latex allergy. What material should I consider for my yoga mat?
If you have a latex allergy, avoid mats made from natural rubber. TPE (Thermoplastic Elastomers) and PVC (Polyvinyl Chloride) are synthetic materials commonly used in most yoga mats now and are generally safe for those with latex allergies. Always check the product description to be sure.
How do I know if a yoga mat has good grip?
Mats with good grip help you maintain balance during poses. Mats like the Vione Hot Yoga Mat Non Slip are designed with special textures for enhanced grip. Reading reviews can also give you an idea of a mat's performance in terms of grip.
Is a yoga mat that comes with a carrying strap or bag really necessary?
If you plan to carry your mat to classes or travel with it, a strap or bag can be very useful. But if its light enough, you can absolutely get by with rolling it up and tucking it under your arm whenever you need to move it.
How do I clean my yoga mat?
Cleaning methods depend on the mat's material. Some mats can be wiped down with a damp cloth, while others can be machine washed. Always check the manufacturer's instructions for the best cleaning practices.