Asana Rebel Review 2023: Is it an Effective App for Weight Loss?
When the grind of my busy day-to-day schedule started to manifest in the form of chronic migraines, I realized I needed to press the 'pause' button on my fitness efforts.
After taking several months off exercise to get my migraines under control, I began the search for a low-impact fitness solution that would accommodate my busy schedule, lack of gym equipment, and my newly developing aversion to anything high-intensity or high-impact.
Enter yoga – an old love of mine; it's the perfect amalgamation of body and mind workouts, and an exercise that could be performed anywhere, anytime, without the need for any fancy gym equipment.
Disclosure: There are affiliate links in the article below, which means if you make a purchase after clicking on one, I may earn a commission. Full disclaimer here.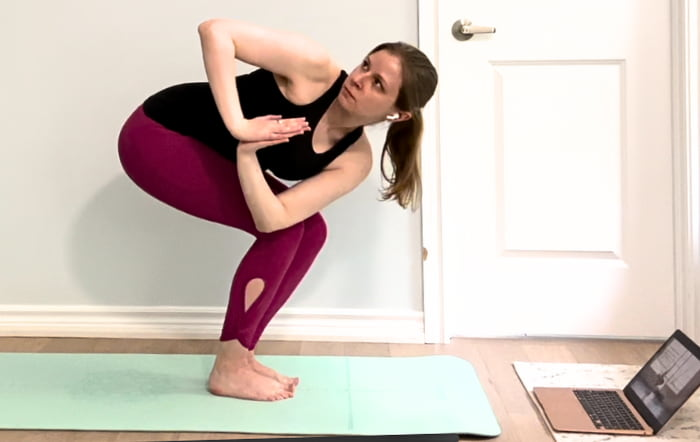 While the soothing asanas and stretches seemed like a much-needed respite, I also wanted something to help me regain my lost strength and fitness levels. I needed a hybrid- something that combined the benefits of yoga but was still fitness-centric.
That's when I found the Asana Rebel app, a fitness solution that seemed to promise the best of both worlds. I've been using this app for a few weeks now, and so wanted to share with you my in-depth Asana Rebel review in case you are on the hunt for information about this app and whether it might be right for you.
About the Brand
Asana Rebel was born in 2015 in the vibrant city of Berlin, Germany, thanks to the visionary minds of Pascal Klein and Robin Pratap. The dynamic duo aimed to break the mold of traditional fitness apps by offering a unique blend of yoga and fitness exercises, all under one virtual roof.
The brand has built an impressive multilingual platform, supporting six languages – German, English, French, Portuguese, Spanish, and Italian, making it a truly global fitness platform.
The brand stands tall on its philosophy of encouraging users to adopt a healthier lifestyle, and they achieve this by providing a holistic suite of yoga apps and features that encompass various aspects of health and wellness.
Whether it's fitness, sleep health, mindfulness, or nutrition, Asana Rebel focuses on overall wellness, and it's mission is to inspire users to facilitate positive change by promoting the formation of healthier habits and offering the tools needed to sustain them.
Asana Rebel App Overview
Asana Rebel is not just a fitness app; it's a one-stop destination for anyone looking to embark on a holistic journey toward a healthier lifestyle. The app helps cater to the individual's needs by collecting information about their goals and using it to recommend workouts, recipes, meditations, and music.
This personalized approach enables users to form better, more healthy lifestyle habits, and maintain them with ease.
The app sports a daily dashboard, serving up workout suggestions, quizzes, recipe recommendations, mindfulness tips, challenges, music playlists, and tips to keep you engaged and motivated. One of Asana Rebel's standout features is its introductory lessons that provide a walkthrough of basic yoga poses.
These lessons ensure users have a solid foundation of movements before advancing to more complex workouts. It is designed to be a well-rounded health and fitness app, placing equal emphasis on sleep quantity and quality, stress relief using meditation, productivity enhancement with focus music, and balanced nutrition through healthy recipes.
Asana Rebel Cost
Asana Rebel operates on a subscription-based model, but the cost of an Asana Rebel subscription varies depending on the plan chosen. As of my review, the app offers an annual subscription at $47.99 CAD.
Alternatively, users who prefer a month-to-month commitment can opt for the monthly subscription plan, priced at $17.99 CAD. These prices could differ slightly based on location and currency exchange rates, so it's always a good idea to check the most current pricing on the app itself.
For the variety of features and comprehensive wellness support the app provides, one might argue that the Asana Rebel cost offers good value for money.
While the Asana Rebel website offers various deals and promotions at different times, as of the time of writing, they do not offer a free trial of the app.
That seems like a bold choice to me, since most fitness apps offer some kind of free trial or free version before taking your money. Then again, it is relatively affordable compared to some of these other apps.
Equipment Required
Asana Rebel's workouts don't require any fitness equipment other than a yoga mat. (Isn't that a relief?) I would recommend investing in a high-quality mat like the BMat (or the Gorilla Mat, if you don't need a mobile option and prefer something that covers lots of floor space). However, if you're on a tight budget, there are some great budget options, too.
First Impressions
It's easy to download Asana Rebel; A few taps on the Apple app store, and I was off to the races.
Opening up the app for the first time, I was greeted with a user-friendly interface and clean design. The app requested some initial information about my fitness goals and personal habits.
It felt a little like having a personal trainer by my side, getting to know me better so they could tailor the best workout plan.
Once logged in, the app encouraged me to complete their introduction program, which covers basic yoga poses and flows.
As someone starting with a yoga app after a long haitus, I appreciated that Asana Rebel had taken the time to include introductory lessons to help me reestablish the foundation of my practice and focus on one yoga pose at a time.
Thoughts on Using Asana Rebel
Customizing My Fitness Journey
After I answer the daily question about my mood and physical state, the app presents me with workout and meditation ideas that fit into my routine. Everything is personalized to my preferences and availability, from workout frequency to meal suggestions. I always appreciate an app that integrates customization, so it gets bonus points for this.
You can access on demand workouts through the home screen and by going to the "Explore" tab. Workouts can be sorted by collections, goals (like 'flexibility' and 'get in shape'), intensity, and duration.
Activity Tab
Under the "Activity Tab," you'll find a gauge that shows you how much you've completed your weekly workout goals, along with a calendar detailing when you've worked out and how much time you've spent exercising or listening to music and meditations. You'll also find a history tab that tracks which workouts, music, meditations, and sleep meditations you've selected in the past.
I suppose this would be the app's "home base" but it felt a little basic to me. There's nowhere to log meals or calories burned or other details that most other fitness apps track. I also couldn't find anywhere to view or edit my initial goals I entered when I first logged into the app. I'm also not sure how how much those goals really affect whats suggestions you get.
After all, I assume you have access to all the same Asana Rebel workouts and meditaitons regardless of whether your goal is losing weight or sleep better. I think the only thing that changes is what gets recommended on your "Today" tab.
Challenges
The Challenges section can be found in the "Explore" tab and contains a handful of multi-day programs, like the 14-Day Six-Pack Challenge and the 21-Day Challenge for Weight Loss. I haven't tried a challenge yet but they look like a good way to kick-start your progress and get into the habit of working out regularly.
Asana Rebel Workouts
I found Asana Rebel's workouts are as effective as they can get for equipment-free, bodyweight only exercises. They successfully combined the tranquility of yoga with the more high intensity workouts of fitness exercises, resulting in a unique blend that kept me engaged and motivated. Whether I needed a quick energy boost or a challenging core workout, Asana Rebel had it all.
For example, the lower body workout routine I did definitely counts as strength training; although it was only 20 minutes long, my legs were very wobbly by the end and quite sore the next day!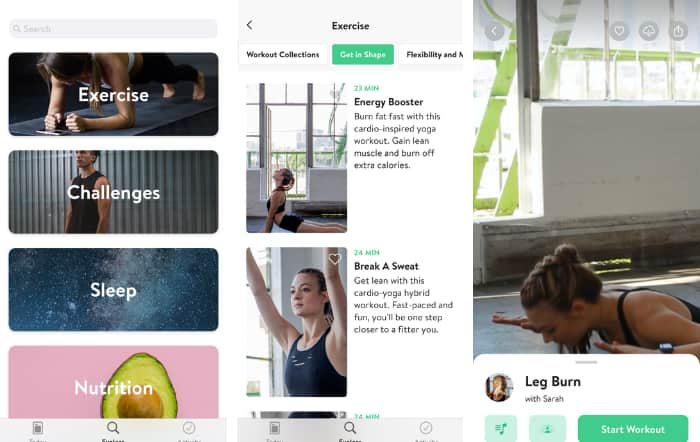 Meditation
The meditations were genuinely soothing. They offered a perfect way to wind down after a strenuous workout or a hectic day. The inclusion of sleep meditations was a delightful bonus.
Music
In addition to meditations, there's also music – some is for focus and some is for sleep. The focus tracks are nice to have on in the background but I like a little more variety in my music so I don't use this function much because I prefer to just load up a Lo-Fi channel on YouTube.
The sleep music is great though. There's something magical about drifting off to sleep while listening to calming melodies that enhance your sleep quality.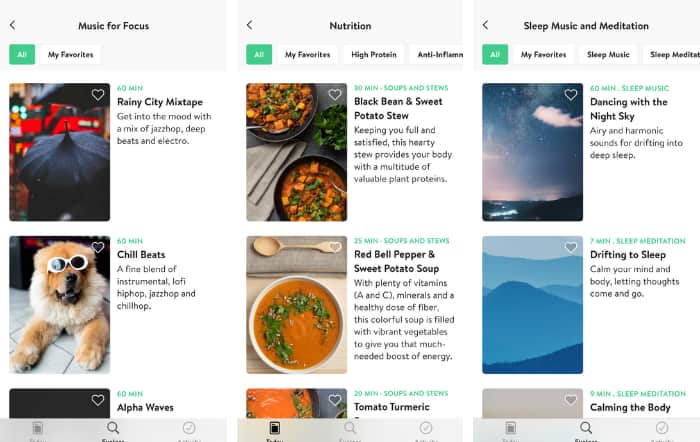 Recipes
To be totally honest, the nutrition section is a bit basic; there doesn't seem to be a ton of meals to choose from. (I counted 42 recipes, and a lot of those were smoothies.)
They also take considerable prep time, which, if you've read any of my other reviews about meal plans, is a major pet peeve of mine. (No, I'm not going to spend 30 minutes making a beetroot salad for lunch!)
Also, the recipes are pretty much all vegetarian as far as I can tell. Some have eggs in it, but besides that, your protein sources are always coming from quinoa, cheese, tofu, and and legumes.
Personally, I don't mind vegetarian recipes, even though I'm not vegetarian. But if you're looking for new ways to cook up some lean chicken, this app isn't it.
Tips, Trackers, & Quizzes
The app also serves up other tidbits to help you focus on developing healthy habits. Scrolling through the home screen, the app reminds me to eat more fruits and veggies, limit my caffeine intake, and set aside time for reading.
You can tap on each suggestion to get a breakdown of what kind of goal you should set for yourself and why it impacts your wellness. I don't find these particularly helpful and just find myself scrolling past them for the most part, as they tend to be things that are common sense.
Trackers are also interspersed throughout the home screen, including a step-count tracker and water tracker. These sync with your health app, but I don't bother logging either of these things.
The daily quiz is designed to help you broaden your horizons on different facts and philosophies regarding health and fitness, which is an interesting touch. (I'm a little annoyed at how many I get wrong though!)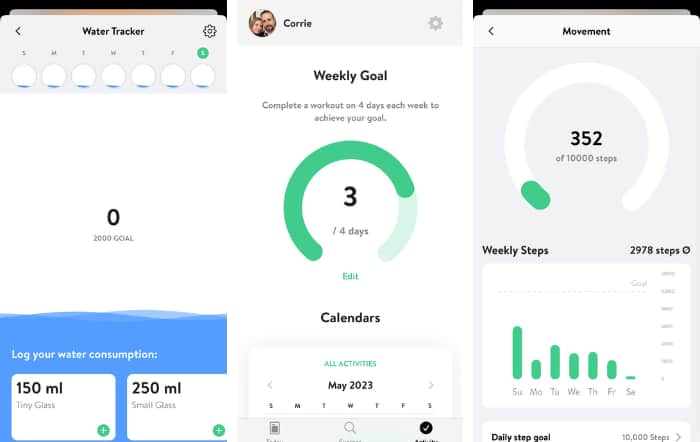 My Results with Asana Rebel
After several weeks of using the Asana Rebel app, I can confidently say that it has had a significant impact on my health and fitness journey. The customized workout plans, combined with the daily health tips and nutrition advice, have helped me kick off my renewed fitness journey strong. I've already lost a few pounds and have adopted a more active, balanced, and healthy lifestyle again.
The yoga workouts are invigorating yet approachable, offering a wide range of intensities that cater to beginners and advanced users alike. The sleep music and meditation sessions have become a staple in my bedtime routine, and I've noticed a significant improvement in my sleep quality and overall stress levels.
The Asana Rebel app truly stands out from other apps for its comprehensive approach to wellness. It doesn't just focus on one aspect of health but holistically addresses physical fitness, mental health, nutrition, and even sleep patterns.
I would definitely recommend the Asana Rebel app to anyone seeking to start or refine their wellness journey.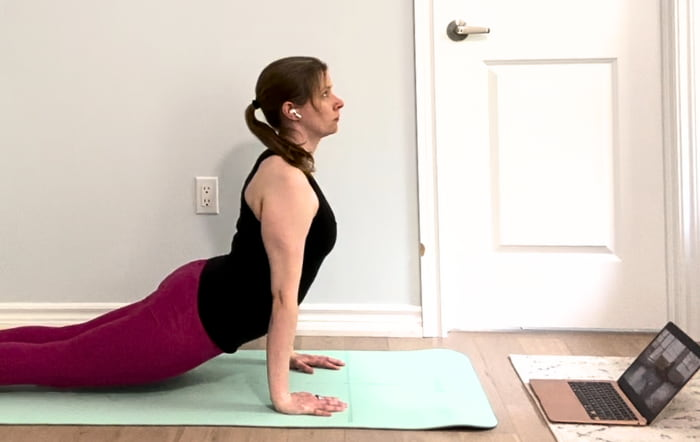 Best Asana Rebel Alternatives
While Asana Rebel offers a fantastic blend of yoga and fitness, other apps are available if you're looking for less of a yoga-fitness hybrid and something that leans more toward one or the other.
Here are a few other great fitness apps I've tried that I also recommend:
YogaDownload
If you're looking for a more traditional yoga experience, YogaDownload is a fantastic option. This app offers a vast library of yoga classes, making it ideal for those who want to delve deep into the world of yoga. The platform offers classes for all levels, from beginner to advanced, and covers a variety of yoga styles.
SWEAT App
The SWEAT app is another excellent alternative. Although it's a bit more expensive, the app offers a plethora of both yoga exercises and fitness classes to help you achieve specific fitness goals.
This makes it a versatile option for those who want a mix of yoga and more intense workouts. Besides, the app offers many workout videos and plans from renowned trainers, making it a hit among fitness enthusiasts.
FitBod App
While not a yoga app, the FitBod app is a great alternative if you're looking for customizable, bodyweight only workouts. The app creates personalized workout plans based on your fitness level, available equipment, and workout frequency.
It's ideal for those who want to switch up their fitness routine and add more variety to their workouts.
Jillian Michaels App
This is an amazing app and one of my all-time favorites because I'm a big JM fan and have been doing her workouts since her 30 Day Shred video. It has yoga programs too, but to a lesser extent; instead, it contains a library of diverse workouts (some with guest trainers), including HIIT, kickboxing classes, walking workouts, and even a new program that integrates the DB Method.
For more recommendations and similar apps to those listed above, be sure to check out my comprehensive list the best home fitness apps!
Asana Rebel App Review: Conclusion
Navigating through the labyrinth of home workout apps can be as stressful as a high-intensity workout itself. But Asana Rebel is a great fitness app if you want to lose weight, especially if you're just getting started and need something that doesn't require a lot of space or equipment but will still get you well on your way to a tight and toned body.
However, it's important to note that to reach your goal weight, you may need to supplement an app that will help you step up your workouts with weighted resistance training and workouts that will burn calories more efficiently.
But for the most part, Asana Rebel has got your back… and your abs!
The bottom line is I highly recommend Asana Rebel – and I say that as someone who is not even an affiliate for them. I hope this Asana Rebel review has helped you decide if this app is for you! In the meantime, remember that your future fit-self is forged in the fires of your decisions today, so make 'em count!
Asana Rebel: Pros and Cons
Pros
Comprehensive focus on wellness, including fitness, nutrition, sleep, and stress relief
Variety of yoga-inspired workouts available
Available in multiple languages
Easy to navigate and user-friendly interface
Accessible from web-browser
Cons
No free trial or free version
Tracking features are a little basic
May not be enough for building muscle
Meal ideas are a bit basic (and vegetarian-only)
Frequently Asked Questions (FAQs)
Is Asana Rebel good if I've never done yoga before?
Absolutely! Asana Rebel is designed for all fitness levels, including absolute beginners. The app includes introductory lessons and workout videos that teach basic poses to ensure a solid foundation before you start a workout program.
I'm an advanced yogi. Will Asana Rebel offer me a challenge?
I would say Asana Rebel is great for beginners, but it does offer a variety of workout intensities that are suitable for more advanced yogis. It offers challenges to keep you motivated and continually improving your fitness.
What kind of meal suggestions does Asana Rebel provide?
Asana Rebel offers some pretty tasty-looking recipes, but keep in mind they are pretty much all vegetarian. Lots of smoothies ideas!
Is the Asana Rebel app available for both Android device and iOS devices?
Yes, Asana Rebel is available to download from both the Apple App Store and the Google Play Store app.
What happens if I miss a workout or fail to meet my set workout frequency goal?
Asana Rebel is designed to help you cultivate a regular fitness habit, but it also understands that life can sometimes get in the way. If you miss a workout, the app encourages you to get back on track when you can. It's all about long-term commitment and consistency.
Can I use Asana Rebel on multiple devices?
Yes, you can access your Asana Rebel account and access workouts on any device where the app is installed, as well as your web browser.
What kind of music playlists does Asana Rebel provide?
Asana Rebel provides music playlists designed to improve focus. These include different genres to suit various moods and activities. There's also background music for the workout videos.
Does Asana Rebel offer live yoga classes?
As of my last time using the app, Asana Rebel only offers pre-recorded, on demand workouts. You can select and do these workouts at your convenience.
How does Asana Rebel compare to other fitness apps like YogaDownload, SWEAT, and FitBod?
Each of these fitness apps has its unique strengths. YogaDownload is great for a more traditional yoga experience. SWEAT has a broader variety of fitness classes, but it's a bit more expensive. FitBod offers customizable bodyweight-only fitness workouts, making it a good choice if that's your focus. Asana Rebel offers a holistic approach to health and fitness, combining yoga workouts with fitness exercises, mindfulness practices, sleep health, and healthy eating tips. Ultimately, the best app depends on your personal goals and preferences.