Honest Gorilla Mat Review: Does It Stand Up to High Impact Exercise?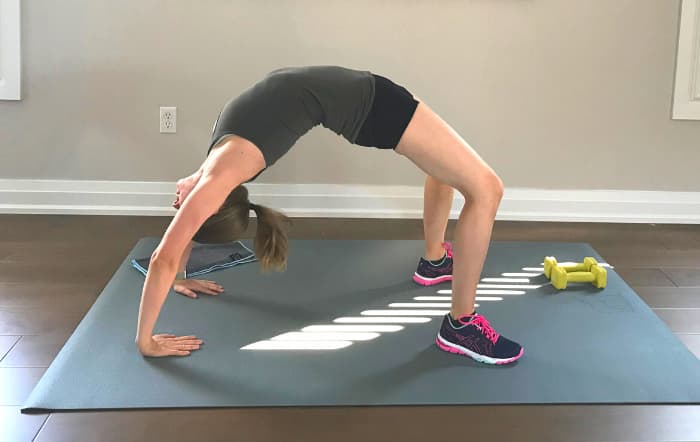 Before we dig into this Gorilla Mat review, I have a confession to make: One of the reasons I'm obsessed with working out from home is that I'm cheap. I don't want to spend a ton of money on an expensive gym membership, and my home workout gear is limited to an exercise mat and a few sets of dumbbells.
Dumbbells are dumbbells. But exercise mats? I learned the hard way you shouldn't skimp on quality. Since I started my fitness journey a little more than three years ago, I have been through more exercise mats than I can count.
Most of them were around $20 and invariably ended up disintegrating within a few months of withstanding my running shoe-laden, high-intensity sweat sessions.
But enough is enough. So I finally broke down and bought the creme de la creme of exercise mats: The Gorilla mat.
Spoiler alert: I fell in love instantly. But if you're on the fence about investing in the Rolls Royce of exercise mats, read through this review and let me help you make an informed decision.
Disclaimer: This is not a sponsored post and I was not paid to write this review. However, I am an Amazon Associate and there are affiliate links in this post, which means if you make a purchase after clicking on one, I may make a commission (at no extra cost to you). Full disclaimer here.
What Are Yo Gorilla Mats? Product Features
Yo Gorilla Mats (formerly known as Gorilla Mats) is a fitness brand that sells premium exercise mats for your home gym. 
Their exercise mat is designed to protect your floor and joints by covering a large surface area while offering premium cushioning, shock absorption, and stability. This is a big yoga mat, with sizes that start at 6' x 4' and 6 mm of cushioning and go all the way up to 12' x 6' and 8 mm of cushioning. (Making the latter one of my favorite to recommend if you have knee trouble.)
They're a hefty weight and can be used on virtually any type of floor without sliding around, whether it be tile, hardwood, or even carpet. (Although they recommend carpet anchors if you intend on using them on carpet to help prevent slippage.)
It's also made of eco-friendly materials containing high-density, non-toxic rubber, and PER foam.
Last but not least, the Yo Gorilla Mat is designed to take a beating with your shoes and can withstand HIIT, plyo, and any other shoe-based exercise.
Where to Buy the Exercise Mat
You can buy the Yo Gorilla Mat on their site, but they also sell them on Amazon, which offers fast, free shipping via Prime.
The first thing you will notice is that they are a little higher priced than your average exercise mat. I admit, I'd been eyeing this mat for years but had always been scared away by the price tag.
However, they offer a lifetime guarantee on the mat and throw in a free mat case and microfiber towel to sweeten the deal.
Receiving and Setting Up My Yo Gorilla Mat
I chose the 6' x 4' exercise mat, which is the smallest in their lineup. I bought it on Amazon and received it in 2 days.
It was packaged well but I was surprised at how heavy it was. It's about 15 lbs, but the larger ones way even more! So just be aware that if you go for the larger mats, you'll need to be able to schlep up to 25 lbs to get it to the designated exercise area in your house.
Rolling it out was easy, and I had no problem getting it to lay flat on the floor. The velcro straps are strong and do a good job of strapping the mat up. However, I don't need to use them because I just leave my mat unfurled in my exercise room all the time.
I got the Silverback Grey, and it looks great in my workout room. I was instantly impressed with the quality of the rubber, and I could tell right away that it was designed to take the abuse of my training shoes. The underside of the mat has small circular nubs that prevent it from sliding on the floor.
The microfiber towel is a nice touch. It's soft and would work as a sweat-wicking towel or for wiping down the mat.
Using the Gorilla Mat – My Review
I work out about 4-5 days a week, so I've already had many opportunities to test out this mat. Most mats will hold up well after one or two uses, but after continued use over a long time, they start to break down. I'm used to being covered in thousands of tiny specks of my disintegrating exercise mat at the end of every workout!
But I've been using the mat pretty regularly for a few weeks, and there have been zero signs of wear thus far. This is pretty impressive considering how hard I'm stomping on it during cardio HIIT days.
Further to that, I absolutely love working out on it!
My favorite thing about the mat is that it's thick enough to absorb the impact my plyo moves. (Tuck jump burpees? No problem!)
If you're on the hunt for the best yoga mat for bad knees, the Gorilla mat offers great cushioning for floor-based exercises. For example, I used to hate doing windshield wipers because when my legs are lowered to the side, my hip bone pokes into the floor through the mat and it hurts. But with this mat, there's no pain so I can focus on oblique shredding. 
Yet, the mat is still firm enough that I don't feel like I'm sinking into it at any point, which is usually the problem I have with extra thick yoga mats.
The most significant weakness of the Yo Gorilla exercise mat is the grip. While the grip with training shoes is perfection, bare hands and feet are a different story. When I get sweaty, I find my hands slide a little in pike or downward-facing dog.
It's not like you have to worry about face-planting in such poses but it's not the best nonslip yoga mat on the market. (I would give that award to the BMat.)
However, in the mat's defense, this is their exercise mat, not their yoga mat, which is a different product. Furthermore, Yo Gorilla does warn that the mat may be a little slippery for a while until the top layer of the mat gets broken in.
But truthfully, it's still more grippy than half the yoga mats I've used in the past. That said, if you're practicing yoga more than other types of workouts, you might want to consider getting the yoga mat version. 
Other than that, I find myself wishing I had gone up to the next size. The 6' x 4' is definitely sufficient for my workouts, but a little extra coverage would have been even better so I could rest my dumbbells on it off to the side when I'm not using them. But that's my fault for not buying the bigger size!
Watch me put it to the test in my Reel below – I can't think of a better way to appraise the durability of a mat than to hammer it with plyo exercises!
Gorilla Mat Review Final Verdict: 10/10!
This comfort gym mat checks every damn box. I am so happy with my Gorilla Mat and just wish I had been smart enough to get one sooner. Because with the company's lifetime guarantee, there's no reason not to invest in this mat. I truly believe it is the last mat I ever buy.
If you do mostly yoga, you might want to consider getting the yoga version of the mat for added support and grip – learn more about the difference between these two mats to decide which one is best for you. Otherwise, the exercise mat has got your back no matter what your home fitness pursuits are!
If you really can't spring for this fitness mat, there are others that will do the job for less. They aren't as good but will still protect your floors and joints for as long as they last! Check out my top picks for mats here.
What did you think of this Yo Gorilla Mat review? Any questions I didn't answer in this post? Let me know in the comments!
FAQ
Who or What are Gorilla Mats?
Gorilla Mats are a brand of premium large yoga and exercise mats. They recently changed their brand name to Yo Gorilla Mats.
Which Mat Should I get?
There are two different types of Yo Gorilla Mats: their exercise mat and their yoga mat. The yoga mat offers more cushioning and grip, while the exercise mat is heavier and more durable to support workouts in shoes.
Are Gorilla Mats Worth the Price?
100% yes! They are a bit pricier than other exercise mats but they are high quality and stand the test of time – with or without shoes!
Are Gorilla Mats Safe?
The mats are made of natural, high-density rubber free of toxic materials.
Where can I buy a Yo Gorilla Mat?
You can buy them from their website or on Amazon.