You? You're an achiever, a doer.
How do I know that?
Because you're here.
And no, I'm not saying that being on this website is the reason you're an achiever and a doer.
You are why. You have goals and a strong desire to reach them.
And you ended up here because you're looking for information and resources to help you reach those goals.
I launched The Fit Careerist in March 2018 in the hopes of creating a helpful resource and community for career-minded people who also strive for a healthy and active lifestyle.
Maybe you're an aspiring entrepreneur looking to start their first side-hustle, or a recent graduate looking to make their career debut. Or maybe you're already a seasoned professional, but you know that the learning never stops!
So what's with the fitness stuff?
I truly believe that success and an active, healthy lifestyle are closely interlinked. It certainly has been in my case!  The same mindset that makes you successful in business can make you successful in fitness, and vice versa.
Regardless of where you are in life, if you're looking to become the best version of yourself or be healthy and happy, you'll feel right at home here. You'll find a ton of content about career strategy, entrepreneurial pursuit, fitness, productivity, and personal development.
About Me
My name is Corrie Alexander and I'm a Canuck who lives near Toronto, Ontario.
I wear many figurative "hats", including but not limited to: logistics nerd, blogger, freelance writer, virtual assistant, exercise enthusiast, cat-mom, and coffee addict. I firmly believe in lifelong learning and  that anything can be achieved with enough grit and the right mindset.
I always wanted to start a side-hustle of some kind, so launched a small freelance writing side-hustle in April of 2016. It wasn't long before I started getting clients and making a nice little side income on top of my full-time job!
But for a while, I was putting work and my side-biz ahead of self-care – and it started to take its toll. I gained 20+ lbs, felt sluggish, and went through long stretches of low mood that bordered on depression.
Years earlier, I'd been an avid runner, but had to stop due to nagging injuries. I knew I needed to find some other form of physical activity to get healthy. My spouse gifted me a Fitbit for Christmas that year, and I started focusing on meeting step count goals to slowly integrate exercise back into my day to day life. Walking, combined with a new simple diet strategy helped me lose 10 pounds that year.
Then in November of 2017, I discovered resistance HIIT and I've been hooked ever since! I've lost another 10 lbs since then, for a total loss of 20 lbs. I'm in the best shape of my life!
More importantly, I have more energy, feel more creative, and am more motivated to succeed than ever before. I think exercise has everything to do with this shift in mindset!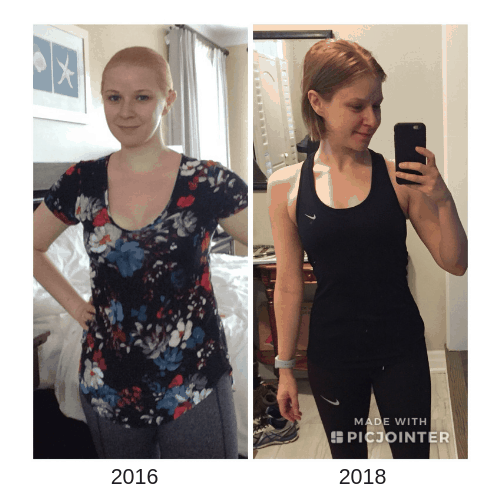 In life, we're all climbing somewhere. For some of us, that climb involves a Stair Master. For others, a corporate ladder. But no matter where we are in our individual climbs, I want this to be a place where we can help each other get to the top!
What now?
The first step is to sign up for my newsletter so you can be among the first to receive news and goodies from The Fit Careerist.
Then, depending on what your goals are right now, I'll point you in a certain direction:
Are you a budding entrepreneur or just someone who could really use a second stream of income? Then check out these posts.
6 Compelling Reasons to Start a Side-Hustle!
Why You Should Focus on Freelance Writing Instead of Blogging
(Already have a small business underway and feeling a little overwhelmed? I'd love to help! Check out my services page.)
Want to take charge of your health but can't figure out how to get motivated or have no time/budget? These are my most popular health and fitness posts:
How To Create a Free Home Workout Plan (That's Insanely Effective!)
The Ultimate List of Home Fitness Gear 
Looking to forge ahead in your career? Then I think you'll really like these:
The Top 3 Career Mistakes That Are Holding You Back
7 Signs You Will Be an Effective Leader
Lastly, I just want to say, thank you for stopping by The Fit Careerist – I'm so happy you're here!! 🙂