Lumen Metabolism Tracker Review: Can This Device Really Help You Train Your Body to Burn More Fat?
One thing that's always been a source of frustration for me is not really knowing what's going on in my body. I might think I'm doing all the right things to optimize my health and fitness, but how do I actually know if it's working? That's why my interest was immediately piqued when I first heard about the Lumen Metabolism Tracker.
The Lumen is a revolutionary new device designed to help you hack your metabolism. I've had mine for just over two weeks now, and I'm completely obsessed! So if you need help optimizing your nutrition, losing weight, or improving your health in general, you'll definitely want to stick around for this Lumen metabolism tracker review!
Disclaimer: As an ambassador for the brand, I received a free Lumen device. I am also an affiliate, which means if you make a purchase after clicking on any of the links in this article, I may earn a commission at no extra cost to you. These are my own honest thoughts and opinions on the Lumen metabolism tracker!
All About the Lumen
Before I get into my Lumen review, it's important you get the lowdown on what precisely the Lumen is all about, especially since metabolism tracking is a relatively new technology.
What is Lumen?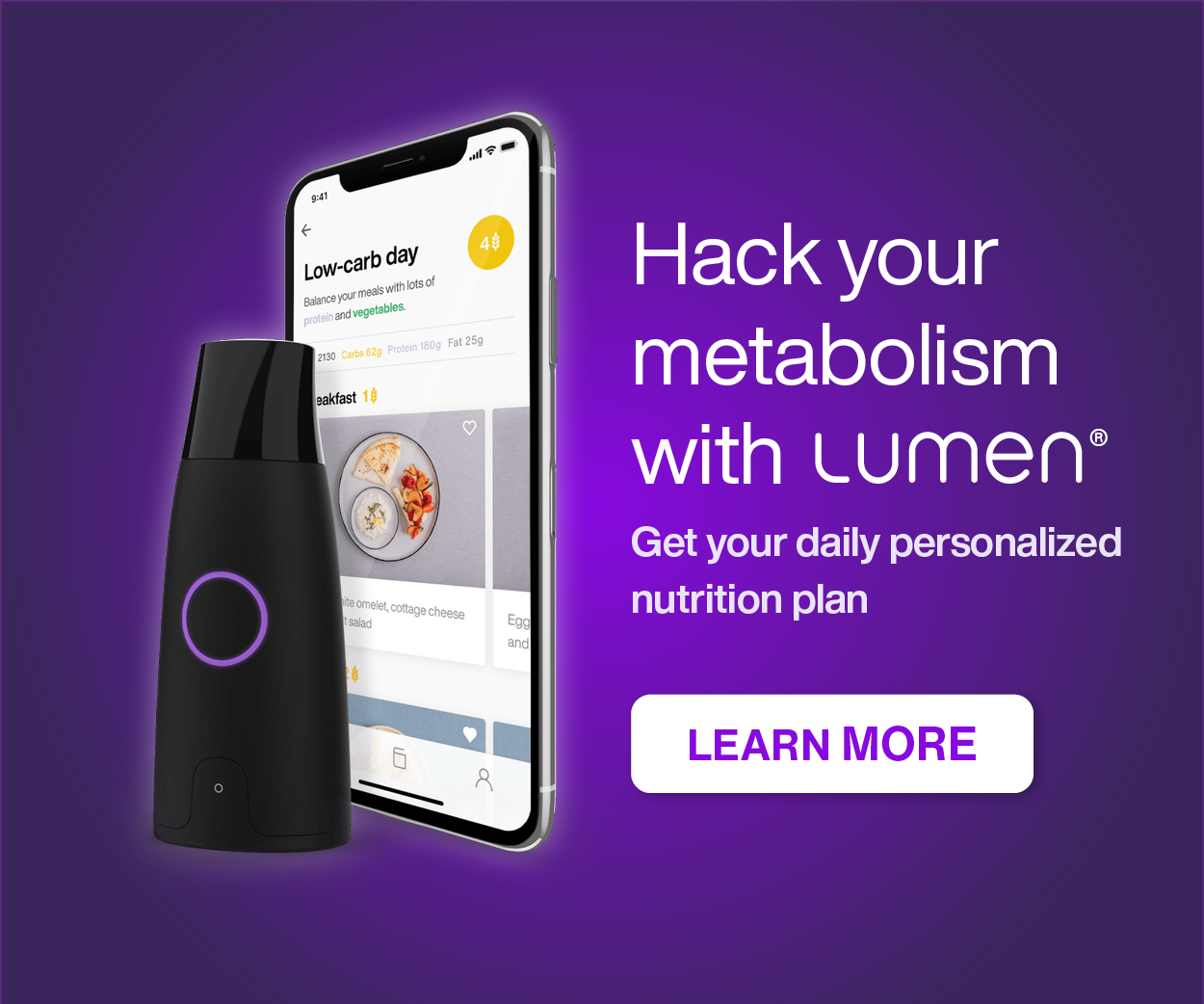 Lumen is the first tool of its kind that can help you improve your metabolic flexibility by measuring the amount of CO2 in your breath. This technology used to be only accessible by elite athletes or in medical facilities, but the Lumen has condensed it into a compact, efficient, affordable, and stylish unit.
The device was founded by twin sisters Merav and Michal Mor, who are both scientists and athletes. After partnering with experienced entrepreneurs, they developed the prototype and launched it on Indiegogo.
It's taken the health and fitness world by storm ever since and has been featured in prominent publications such as TechCrunch, Entrepreneur, and Forbes.
What Is Metabolic Flexibility, and Why Does it Matter?
Metabolic flexibility is a new term for most people, but all it means is how well your body can transition between burning carbohydrates and burning fats. The more flexible your body's metabolism, the healthier and fitter you can be.
If you want to do a deep dive into what it's all about, I published a comprehensive post about Metabolic Flexibility on Medium that you should definitely check out!
But in a nutshell, improving your metabolic flexibility comes with a heap of benefits, such as:
Easier weight loss
Fat loss
Increased energy levels
Improved immune system and decreased risk of developing serious diseases like cancer and type 2 diabetes
More Mental Clarity
Improved insulin sensitivity
Reduced cravings
Sounds pretty good, right?
How Does the Lumen Metabolism Tracker Work?
The Lumen works by measuring the respiratory exchange ratio (RER) which is essentially the amount of CO2 (carbon dioxide) in your breath. The unit connects to your phone via Bluetooth, and you use the Lumen app to record your breath readings.
The technology existed before the Lumen, but it used to be the only way to get an accurate measurement was to go to a specialist's facility, get hooked up to their equipment, and sit motionless for the better part of an hour. Oh, and these specialists' tests cost upwards of $350 for one reading!
The Lumen device is far more convenient and is just as accurate as this gold standard, according to several studies and this peer-reviewed paper.
It sounds complicated but really, it all boils down to a simple breath test.
Following the guidance of the app, you inhale deeply through the Lumen, hold your breath for about 10 seconds, then exhale through the device using a steady stream of breath. You do this up to two times, and then the app will give you a metabolic measurement ranking between one and five on the flow meter.
A score of one or two means your body is burning primarily fat. This is the target range you want to train your body to get to in the morning when you first wake up.
A score of three means you're burning both carbs and fats.
A score of four or five means you're mainly using carbs. This accurate reading is what you would want to see shortly after eating a meal or before a workout, so you have energy.
What Does the Lumen Cost?
At the time of this writing, you can get the Lumen in one of three subscription plans:
Metabolism Booster – The 6-month track for $249, renewing at $25/month after six months
Advanced Fat Burn – The 12-month track for $299, renewing annually
Optimal Health – The 18-month track for $349, renewing annually
As you can see, this device is a bit of an investment but extremely cost-effective and convenient compared to the traditional methods of measuring CO2.
***As a reader of my blog, you get a 10% discount! Just use my code FITCAREERIST at the checkout!***
My Lumen Metabolism Tracker Review
Everything about the Lumen tracker sounded awesome, and I couldn't wait to try it. Still, I was a little hesitant; getting such detailed insights into my body's metabolism seemed too good to be true.
The only way to know for sure if the Lumen would be right for me would be to test it out!
Receiving My Lumen and First Impressions
For me, shipping and packaging are a big deal. It influences how I think of a brand and how much they value their customers. So I'm pleased to report that Lumen gets top marks in this department.
I live in Canada, but it only took about a week for the tracker to arrive on my doorstep. It was nestled between black foam padding in a Lumen-branded cardboard box. The black, shrink-wrapped Lumen box containing the product was extremely classy, and lifting off the lid revealed an equally sleek-looking device inside.
It came with a little pamphlet containing a welcome card and instruction booklet, a charger, and a cute little travel case.
Right away, I was impressed. Everything from the packaging to the Lumen itself was made with high-quality materials. To me, the quality is on par with Apple products.
The Lumen itself is nice to hold, with a smooth, soft surface and a shiny magnetic cap over the mouthpiece.
Turning it on causes a glowing, soft-purple circle to appear. The glowing circle also appears whenever it's sitting on its charger and changes colors.
Setting Up the Lumen
I wanted to test the battery, so I didn't put my Lumen on the charging stand for the first little while I used it. The battery lasts forever! Even after days of not charging it, it still showed at a 100% battery life every time I logged into my app.
So if you need to tuck it in its travel pouch and go somewhere with it for a few days, you don't need to worry about bringing the charger.
Downloading the Lumen app and syncing it with my device was a snap. The app itself is highly polished and easy to use.
It guided me through the process of taking my first measurement with the Lumen, getting me to take a few practice breaths before taking an actual measurement.
I admit it took me a couple of tries to blow just right into the Lumen; to produce accurate results, you need to breathe and exhale through the device the right way. Take in too much air, or blow too hard, and you'll have to do it over.
(It reminds me of when I used to play the trumpet – the breath control needed to blow into the Lumen is almost like playing an instrument!)
Usually, it asks me to blow twice before giving me my reading, but occasionally it can give me my score in a single breath.
Taking Measurements with the Lumen
The most important time to take a measurement is shortly after waking up in the morning. The morning breath score is the most significant indicator of if you're metabolically flexible because, ideally, your body efficiently shifts from carb-burning to fat-burning mode overnight while you sleep.
So your morning measurement should be low to indicate fat burn. But the app also encourages you to take measurements before eating, after eating, before exercise, after exercise, and before bed.
You can also take measurements at other times and add your own tag to them. For example, I take a measurement after I've been fasting for 15 hours or so to see where I'm at, so I created a tag called "15 hours fasted" to apply to that reading.
Counting Carbs, Not Calories
Macronutrient manipulation is more important than calorie tracking with the Lumen; you're encouraged to count carbs instead of calories. In fact, it gives you a macro ratio for carbs, fats, and proteins, but carbs are the main one you're asked to track.
This is because the amount (and type) of carbs you consume are the main way to influence whether your body will burn carbs or fat for fuel.
The app also provides a detailed tutorial on how to easily track carbs using your hand size as a guide. For example, one handful of cooked rice equals one serving of carbs.
Another cool thing you can do in the app is look up any food in their search bar to get an idea of how many servings of carbs it has.
I had been eating intuitively the past few months but picked up the Cronometer app again for keeping track of my macros.
Honestly, I feel like if you're going to track how many carbs you're eating, you might as well count all your macros as I don't see how only counting one is any easier.
Plus, if you stick to all three macronutrient targets, you're much less likely to go over your calorie budget. (Because let's face it, just because you're not counting calories doesn't mean they don't still matter.)
Daily Plan
After your first reading in the morning, that's when the magic happens; it factors that measurement in with whatever physical activity you have planned for the day and gives you a daily nutrition plan to follow.
Most days will be a low carb day, unless you're very physically active or its one of your "boost days" which you get after four consecutive days of your morning measurement showing that you're burning mostly fats.
I find it so cool that it isn't a cookie-cutter carb cycling regime where it's a low carb diet one day, and high carb meals the next. Instead, it gives you a personalized nutrition plan each day based on your readings and what you have planned.
It will even tell you why it recommends the number of servings it does.
So if you tell it you hit the gym on Tuesdays, it will factor in more carbs on that day to help you fuel your workout.
And the plan will update throughout the day if you change anything in the schedule. For example, if I miss my daily lunchtime walk, I will tell the app, and it recalculates how many carb servings for the day.
The "Me" Section and Lumen Flex Score
In the bottom right-hand corner of the app, you'll find an icon that says "Me." This is where you'll find your FlexScore and other progress stats.
The FlexScore is a rating system on a scale of 0-21. The higher your score, the greater your metabolic flexibility. The score is calculated through three factors:
Your body's fat-burning capabilities
Your body's carb-burning capabilities
Your "Body Clock," or how in-tune you are with your body's circadian rhythm
The FlexScore updates every week and keeps track of your progress.
Under the FlexScore, you'll also find a chart with your weight loss progress and an overview of all your morning scores.
Tracks
When you first set up your Lumen, it will ask you to choose a "Track," or what you can think of as what goals you want to achieve from using the Lumen. There are three tracks:
Metabolic Health: This track is for improving overall health
Healthy Weight Loss: This track is for losing weight while increasing your metabolic flexibility
Fitness Performance: This track is designed for optimizing your nutrition for better performance.
You can change your track at any time by going to your profile settings.
Nutrition and Meal Ideas
Lumen gives you the freedom to plan your own meals – you can eat pretty much whatever you want, provided it stays within the confines of your macro targets. Of course, they recommend that you stick to minimally processed, whole foods.
Lumen's approach to nutrition is one of the things I love most about this brand. They're not telling you to cut all carbs or entire food groups.
Rather, they're helping you take a balanced approach to eating a wide variety of foods in a way that you can feasibly apply to day-to-day life.
So Lumen doesn't provide a meal plan, per se. However, if you are looking for meal ideas, they have a gallery of low-carb meal ideas. They aren't complicated recipes. It's more like a collection of whole foods on a plate.
For example, one of their lunch suggestions is Crabmeat cakes, roasted bok choy, and chickpeas.
It can also give you meal suggestions based on your food preferences. For example, if you don't eat dairy, you can easily exclude meal ideas with those ingredients.
Some people may wish there were more detailed recipes or a more structured meal plan, but I like that there isn't. I have always found meal plans too much of a hassle to stick to, which is ultimately discouraging.
Lumen helps you bypass that by giving you freedom in your food choices.
Other Tools
You can use even more tools in the Lumen app to improve your Lumen experience.
If you're having trouble getting the hang of breathing into the unit, you can find breathing practice exercises in the Tools section.
There's also a handy FAQ and help center section with helpful tips and it answers virtually any question you may have about how to best use the Lumen.
Integrations
Lastly, you can sync the Lumen with your Apple health app and your Apple watch which gives you even more insight into your health. For example, sometimes my Lumen app will discourage me from taking a measurement because it senses that I've been walking around and my heart rate is elevated, which skews your Lumen level.
Customer Support
One thing I must note about the Lumen is the insane level of customer support they offer. In addition to their helpful support center within the Lumen app, there is also an active Lumen Facebook community and a support chat within the app in case you need help.
For example, I had a question and sent a message in the chat app. I got a helpful response very quickly! What's more, they even followed up the next day to make sure I didn't have any more questions.
My Results with the Lumen
Now the moment of this Lumen review you've been waiting for: what kind of results did I get with the Lumen?
I've only been using it for a couple of weeks at the time of this writing, but I've already noticed some cool changes and gained some exciting insights.
My Fat-Burning Progress
The first week I used the Lumen, I was routinely scoring a 4 for my daily morning measurements. This surprised me. I eat healthily and exercise regularly so I thought I would already be pretty metabolically flexible.
But the device clearly showed me I had room for improvement.
The second week I made a greater effort to follow their nutrition plan, and I started getting 3s in the morning. I've even started getting a few 2s towards the end of my daily fast to indicate my body had switched to fat-burning mode.
My FlexScore is currently a 10.7, and my fat burn has improved by 50% week over week!
I also lost three pounds by burning fat and being more mindful about my macros (and calorie intake, by extension). Mind you, I don't have much weight to lose at this point, but I did have a couple of pounds creep on the past month or so because I've been working out less. These pounds lost were quite welcome!
Interesting Insights into My Metabolism
I've also learned some fascinating things about my unique metabolism that I would have never known had I not started using this device.
For example, I've been practicing intermittent fasting for a few years now, and I used to think that longer fasts were helping me improve my fat burn. But I learned that is not always the case.
For example, I would take a measurement after fasting for 15 hours and blow a two, but if I fasted for 18 hours, it would go up to three.
This change is because my body starts having a stress response from fasting, which causes me to go back into carb-burning mode. As a result, I'm practicing shorter fasts to optimize my burn without going too far.
Another thing it's been great for is seeing the impact of my workouts. When I take readings before and after exercise, I can see how well I burned through my carb supply. In addition, it helps me gauge what tweaks I need to make to the intensity, duration, and frequency of my workouts.
All in all, I'm encouraged by the progress I've seen in such a short time, and I'll be sure to update this review again once I've been using the tracker longer!
Review Final Thoughts: Is the Lumen Worth It?
If you want to get a handle on your health and fitness, the Lumen is an excellent investment. As. far as I know, it's the only device on the market that allows you to accurately track metabolism.
It's perfect for anyone who wants to:
Learn to achieve weight loss in a natural way
Feel more energetic
Get an idea of if their healthy lifestyle changes are working or not
However, if you're not serious about improving your metabolic flexibility and learning how your body works, the Lumen won't help you. It's not a magic bullet that will melt away your fat and make you feel more energetic just by blowing into it.
You still need to make lifestyle changes. It's just that now, you'll have validation that what you're doing is working, and that makes it way easier to stay motivated!
So yes, the Lumen tracker is 100% worth it if you want to hack your metabolism and are serious about optimizing your health. It's now a part of my daily routine and I suspect it will be for years to come!
Did you find my Lumen review helpful? If you have any questions, please feel free to ask in the comments!
If you're ready to get started with the Lumen, don't forget to use my special code FITCAREERIST at checkout to save 10%!
Pros
One-of-a-kind device to help improve metabolic flexibility
Accurate readings facilitate improving your body's ability to burn fat and increase energy levels
Device is sleek and made of high-quality materials
Robust, easy to use Lumen app
Personalized nutrition plan is flexible based on your food preferences
Superb help center and customer support
Cons
Ppfront cost is a bit of an investment
Lumen FAQ
How does the Lumen work?
The Lumen is a handheld device that measures your metabolic flexibility, or how efficiently you switch between burning carbs and burning fat as your fuel source. It works by measuring the amount of CO2 in your breath and translates that into a FlexScore after it has a few days worth of readings. This FlexScore is an indicator of your overall metabolic flexibility.
Does Lumen really help to lose weight?
Yes! If you select the weight loss track, Lumen can help guide you to lose weight naturally while simultaneously improving your metabolic flexibility. I lost a few extra pounds just in the two weeks I was using the Lumen.
Can everyone benefit from the Lumen?
Per Lumen's website, their device is not recommended for anyone who is under 16 or pregnant. It's also not advised for anyone who has a history of eating disorders, diabetes, obesity, asthma, COPD, kidney disease, cancer, or thyroid issues.
What do the numbers mean?
A score of 1 or 2 means you are burning mostly fat. A score of 3 means you're burning both fats and carbs. A score of 4 or 5 means you burning mostly carbs.
I'm not very active. Will the Lumen still be accurate for me?
A: Yes, the Lumen will be accurate for people of all activity levels. However, it is recommended that you don't take a measurement immediately after physical activity as it can affect your readings. It's best to wait 30 minutes after any physical activity before using the Lumen.
Is Lumen ideal for the Keto diet?
In a word, no. The goal of keto is to enter a state of ketosis rather than achieve metabolic flexibility, which is the goal with Lumen. That said, if you are on the Keto diet, the Lumen tracker may still prove useful as it can tell you if you're burning fat or carbs.
How long does it take to improve your Metabolic Flexibility?
If you follow the app's nutrition guidelines and take regular measurements, you should start seeing improvements anywhere from a few days to a few weeks. However, everyone is different – be patient and consistent and your hard work will pay off!