The 11 Best Home Workout Apps of 2023
Ever have a long day at work, and the last thing you want to do is battle the rush-hour traffic just to hit a crowded gym? You've got dinner to cook, laundry to fold, and let's not forget the precious minutes (sometimes hours) you spend commuting. BUT. You've also promised yourself you'd get in shape this year. Sound familiar? Don't worry; I've been there. Fear not, my fellow time-crunched friend: Home workout apps are here to save the day (and your waistline).
I am a fitness app junkie and have tested countless apps over the years to determine which of these digital personal trainers are most ideal for busy bees like us. So, lace up those sneakers, clear some space in the living room, and get ready to discover the best home workout apps of 2023 that'll have you getting swole in the comfort of your own home.
*Disclosure: There are affiliate links in the article below, which means that if you make a purchase after clicking on one, I may earn a commission. Full disclaimer here.*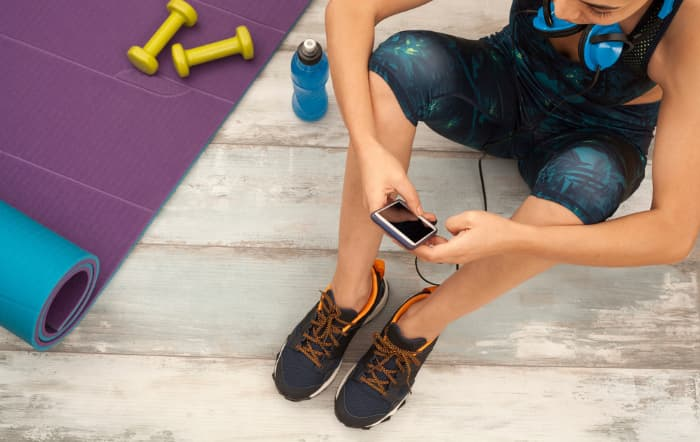 The Best Home Workout Apps of 2023
1. FitBod App
The FitBod App is a top-notch workout app designed to take the guesswork out of strength training. With an extensive library of exercises, the app crafts custom workouts based on your fitness level, goals, and available equipment. It even considers which muscle groups need recovery to ensure a well-rounded and effective routine.
As a busy individual, I adore the FitBod App because it's like having a personal trainer right in my pocket. Its intelligent algorithm creates custom workout plans that cater to my specific needs, and I love how it adjusts based on the equipment I have at home.
I never have to waste time searching for the perfect workout – it's all laid out for me. The app's seamless integration with Apple Health means my fitness data is centralized, making it easier to track my overall health.
The downside? The app is a little basic. There are short videos to demonstrate proper form, but beyond that, there aren't many bells and whistles on this app. However, at $12.99 per mont or $79.99 per year, it is a lot more affordable than some of the other apps on this list, so it's a fair tradeoff.
Pros:
Custom workout plans tailored to individual goals and equipment
Tracks progress and adjusts workouts accordingly
Integrates with Apple Health
Cons:
Features are a little basic
2. SWEAT App
The SWEAT App is a popular fitness app created by renowned personal trainer Kayla Itsines. The app offers various workout programs, including Itsines' famous program, High Intensity with Kayla (Formerly BBG). The flagship program is very effective and ideal for those who are just getting into HIIT. I'd already lost a bunch of weight when I started the program, but I ended up losing those last few stubborn "vanity pounds" and got so much stronger.
But there are tons of other programs aside from High Intensity with Kayla; over 40, in fact! Kelsey Wells, Chontel Duncan, Britany Willians, Katie Martin, and Fleur East are just a few of the other trainers on this app that can help you get your sweat on with yoga, home strength, dumbbell HIIT, and more.
With this slew of on-demand workouts, step-by-step instructions, and demonstration videos, SWEAT makes it easy for you to get your heart pumping and muscles working.
As someone who loves variety in my workouts, the SWEAT App keeps things fresh and exciting. With multiple training programs and workout styles to choose from, I never get bored with this app. Plus, the in-app community provides a supportive environment that keeps me motivated and accountable.
I also appreciate that the app includes meal plans and shopping lists, which makes it easier for me to fuel my body with the right nutrients to achieve my fitness goals.
My only beef with this app is it's kind of expensive at $19.99 per month (or $119.94 annually).
Pros:
Wide variety of workout programs and styles
Supportive in-app community
Meal plans and shopping lists included
Cons:
Expensive compared to other apps
Some workouts may require additional fitness equipment
3. FitOn App
The FitOn App is a fantastic fitness app offering a diverse range of workout classes led by expert trainers. From weight lifting and cardio to yoga and Pilates, you'll find something for everyone.
What sets FitOn apart is that it's completely free, making it one of the best home workout apps for those on a budget. There is a paid Pro version, but even that is only $30.99 for 6 months or $38.99 for a year, making it the most affordable app to make this list. The Pro plan give you access to special fitness programs, meal plans, recipes, premium music, and more.
But I'm happy just using the free version FitOn App because it provides a wealth of high-quality, on-demand workouts. The variety of workout styles ensures I can mix things up and never hit a fitness plateau.
The biggest drawback to this app is that the fitness programs are not as robust as some of the other apps'. For instance, most programs are 2-4 weeks, which results in a more piecemeal approach to reaching your fitness goals.
Pros:
Wide range of workout styles
Fantastic free version
Pro plan is super affordable
Live classes and social features
Cons:
Workouts may require additional fitness equipment
No personalized workout plans
4. Freeletics App
The Freeletics App is designed to help you achieve your fitness goals with bodyweight exercises and minimal equipment. With personalized workout plans based on your fitness level and goals, Freeletics creates custom routines that adapt as you progress. The app also includes a digital coach, offering guidance, motivation, and feedback to help you stay on track.
What I appreciate about the Freeletics App is the focus on bodyweight exercises, making it perfect for home workouts with limited space or equipment. The app's digital coach provides valuable feedback, helping me improve my form and avoid injury, and the variety keeps things interesting. The ability to download workouts for offline use makes it convenient for when I'm on the go or traveling.
But as with any app, it isn't perfect; I'm not a fan of how it asks for feedback in between each set. It breaks up the flow of the workout for me. I'd rater it would wait until the end of the workout to ask for feedback!
Pros:
Focus on bodyweight exercises
Personalized workout plans and digital coaching
Download workouts for offline use
Cons:
Apps constant request for feedback between sets can break the flow of the workout
5. Jillian Michaels App
The Jillian Michaels App is a comprehensive fitness app created by renowned personal trainer Jillian Michaels. With a variety of workout programs tailored to different fitness levels and goals, this app offers something for everyone.
With HIIT, strength training, yoga, kickboxing, and more, the Jillian Michaels App delivers a diverse range of workout programs, including her vast DVD collection. The app also includes meal plans and tracking tools to help you achieve your fitness and nutrition goals.
Personally, I love the Jillian Michaels App for its well-rounded approach to fitness. She's not everyone's cup of tea, but Jillian's engaging and motivational coaching style pushes me to reach my full potential.( When she screams at me to jump my butt into the air, by God, I jump!)
Hers are some of the toughest programs I've ever worked through – but also yielded the best results! Body Revolution, especially, really lived up to its name!
In recent years, Jillian has also added other trainers to the app, as well as less-intense programs, including yoga, breathing exercises, and meditations.
Like SWEAT, it's one of the pricier apps out there, at $19.99 USD pe month or $150 per year. But trust me when I say it is worth the cost of admission. I'm not even an affiliate for this app anymore (sadly, they ended their affiliate program some years ago), but I still push this app on people as though I were!
Pros:
Wide variety of workout programs
Meal plans and tracking tools included
Apple Watch integration
Cons:
Some users may find Jillian's coaching style too intense
A bit expensive
6. Daily Burn
Daily Burn is an all-inclusive workout app that offers a vast library of on-demand workouts but they specialize in live classes. With workouts ranging from yoga and strength training to dance and kickboxing, Daily Burn provides something for every fitness enthusiast. The app also includes workout programs and personalized plans to help you reach your fitness goals.
I tried Daily Burn for a month and really enjoyed the live classes and Discord, that made me feel like I was part of a community. The only downside is that the live classes sometimes don't match my desired difficulty level; many of the live workouts I participated in felt too easy.
Pros:
Extensive workout variety and live classes
Custom workout plans and programs
User-friendly interface and tracking features
Cons:
Difficulty level of daily workouts may not match where you're at
Some workouts may require additional equipment
7. 8Fit App
The 8Fit App is a versatile fitness app that combines personalized workout plans with meal planning and tracking tools. Designed for busy individuals, 8Fit offers quick, effective workouts that can be completed in under 15 minutes, making it easy to squeeze in a workout, even on the busiest days. With a focus on functional fitness, the app's workouts are designed to improve overall strength, flexibility, and cardiovascular health.
What I personally enjoy about the 8Fit App is its emphasis on creating a sustainable fitness routine that fits seamlessly into my daily life.
The short, efficient workouts make it easy to stay consistent, and the custom meal plans help me maintain a balanced diet without spending hours in the kitchen.
However, if you're looking for longer workouts, this app isn't for you.
Pros:
Personalized workout plans and meal planning
Quick, efficient workouts for busy schedules
Progress tracking and reminders for accountability
Cons:
Limited workout variety compared to some other apps
Workouts are all short
8. Aaptiv
Aaptiv is an audio-based fitness app that offers guided workouts for various activities, including running, strength training, yoga, and more. With an extensive library of workouts led by experienced personal trainers, Aaptiv provides motivation and guidance through every workout. The app also allows users to sync their own music, making the workout experience more enjoyable and customizable.
I appreciate Aaptiv for its unique audio-based approach, which allows me to focus on my workout without constantly checking my phone or screen. For that reason, it's great for running, cycling, and stair climbing.
The personal trainers' have great personalities that help me stay motivated during my workouts. Being able to create custom workouts and sync my own music playlists adds a personal touch and keeps me energized. Additionally, as an Apple Watch user, I love the seamless integration with my device.
Pros:
Audio-based guided workouts
Wide range of activities and workout styles
Sync your own music and Apple Watch integration
Cons:
No video demonstrations for workout moves
9. YogaDownload
YogaDownload is a dedicated yoga app that offers a vast selection of on-demand yoga workouts and guided meditation sessions. The app caters to all skill levels, from beginners to advanced yogis, and features various yoga styles, including Hatha, Vinyasa, Ashtanga, and more. With a user-friendly interface and options to download workouts for offline use, YogaDownload makes it easy to maintain a consistent yoga practice no matter where you are.
I love a good vinyasa flow, and I find YogaDownload to be a fantastic resource for deepening my practice and exploring different styles. The wide variety of classes, led by experienced instructors, keeps my routine fresh and interesting.
I appreciate the convenience of downloading workouts for those days when I don't have a reliable internet connection. (Like those weekends up at the cottage.) The guided meditation sessions are a welcome bonus, helping me relax and unwind after a long day.
Pros:
Extensive library of yoga classes for all skill levels
Multiple yoga styles and guided meditation sessions
Download workouts for offline use
Cons:
Limited focus on other types of workouts beyond yoga
10. Asana Rebel
Asana Rebel aims to provide a unique blend of yoga and fitness exercises and encourages users to adopt a healthier lifestyle by offering an array of features focused on fitness, sleep health, mindfulness, and nutrition. The app is user-friendly, gathers initial information about your fitness goals, and provides a range of workouts, meditations, and music that cater to your individual needs.
My experience with Asana Rebel was overwhelmingly positive, and I love how it effectively combines the tranquility of yoga with the intensity of fitness exercises. The app offers a versatile range of workouts, catering to various intensities and durations.
The addition of soothing meditations, focus and sleep music, and daily health tips have significantly improved my lifestyle, sleep quality, and stress levels. The personalized approach of Asana Rebel, especially regarding workouts and meal suggestions, is a valuable feature that I appreciate.
However, it's worth noting the nutrition section could use more variety, and the app lacks detailed tracking features found in other fitness apps. In addition, the absence of a free trial version could deter potential users. Despite these minor drawbacks, Asana Rebel stands out for its comprehensive approach to wellness, addressing physical fitness, mental health, nutrition, and sleep patterns holistically.
Pros:
High quality, bodyweight only workouts
Mediations and music
App can be accessed through your laptop web browser
Cons:
Limited Nutrition Options (predominance of vegetarian recipes)
No Free Trial or free version
11. BetterMe Pilates App
I did a three-month stint with the BetterMe app to enhance my fitness journey, and I must say, it's been quite the experience. Living in a small town with limited access to Pilates studios, I was on the hunt for an app that could offer me a comprehensive fitness solution. BetterMe caught my attention with its wide range of unique workouts, from wall Pilates to standing abs workouts, which are perfect for someone like me who needs to avoid certain exercises due to migraines.
The app is not just about physical fitness; it also focuses on mental wellness. I've found the meal plans to be quite useful, even though I don't follow them religiously. They offer great ideas for what to cook and have helped me make smarter dietary choices.
I lost about 5 lbs in the time I was using this app, and while it's hard to attribute this solely to BetterMe, the app has definitely been a reliable companion in my fitness journey.
However, I will note that the voice-over work during the workouts could be improved for a more engaging experience. Also, the extra cost for challenges was a bit of a letdown. Despite these minor gripes, I'd recommend BetterMe to anyone looking for a convenient way to stay active, especially if you need a variety of workout options to suit different spaces and health considerations.
For a more detailed look into my experience with the app, read my full BetterMe review.
Pros:
Wide variety of unique workouts suitable for different spaces and conditions
Preview feature allows you to see exercises before starting a workout
Holistic approach to health, including mental wellness content
Meal plans offer practical, simple-to-make dietary options
User-friendly interface that's easy to navigate
Cons:
Voice-over work during workouts is monotone and lacks engagement
Additional costs for challenges, not included in the standard subscription
Less personalized compared to some other fitness apps
Renewal rates for subscriptions are higher than introductory offers
How to Choose the Best Home Workout App for YOU
We've explored and reviewed several excellent workout app options, each offering unique features and catering to different fitness needs. But what's great for one person might not be what's great for you.
So now it's time for you to figure out which one is the best fit for you.
The key to finding the perfect app lies in understanding your fitness goals, preferences, and the app's offerings. In the following section, we'll discuss some essential factors to consider when choosing the ideal home fitness app to help you achieve your goals and make the most of your workout journey.
Determine Your Fitness Goals
Before diving into a workout app, it's crucial to identify your fitness goals. Are you looking to lose weight, build muscle, improve flexibility, or train for a specific event? Knowing your goals will help you choose the right app that aligns with your objectives and provides the right workout programs and guidance.
For example, if your primary goal is to lose weight, you might want to consider the Jillian Michaels App, which offers customized meal plans and workouts tailored to your needs. If building muscle and strength training is your focus, the FitBod App can be an excellent choice, as it designs workouts based on your muscle groups and recovery times.
If you're after a more well-rounded fitness experience, the SWEAT App and Freeletics App offer a variety of workout programs catering to different fitness levels and goals. Remember that your goals may change over time, so it's essential to choose an app that can adapt and grow with you.
Consider Your Preferred Workout Styles
Your preferred workout style plays a significant role in your overall fitness experience and motivation. Think about the types of workouts you enjoy and find an app that offers similar activities to keep you engaged and excited about your fitness journey.
If you're a fan of high-intensity interval training (HIIT), consider the SWEAT App or the Freeletics App, as they provide a plethora of HIIT-based workouts. For yoga enthusiasts, the YogaDownload App is your go-to option, featuring a vast library of yoga classes for various skill levels.
Your Preference for Live Classes vs. On-Demand Workouts
When choosing a fitness app, it's essential to consider whether you prefer live classes or on-demand workouts. Live classes provide a sense of community and real-time motivation from instructors and fellow participants. On the other hand, on-demand workouts offer flexibility, allowing you to exercise at your own pace and on your schedule.
If live fitness classes really are your preference, Aaptiv and Daily Burn both offer live classes, providing you with the opportunity to interact with trainers and other users. These apps create an engaging and motivating workout atmosphere that can be beneficial for those who thrive on social interaction and encouragement.
For those who prefer the convenience of on-demand workouts, the FitBod App, SWEAT App, and FitOn App are excellent options. These apps provide a wide range of pre-recorded workouts that you can access anytime, anywhere, allowing you to work out at your convenience.
Customization Options and Personal Training Features
When selecting a fitness app, it's crucial to look for customization options and personal training features that cater to your specific needs and preferences. These features can help ensure that your workouts are tailored to your fitness level, goals, and preferences, making your exercise routine more effective and enjoyable.
The FitBod App is a standout option for customization, as it designs workouts based on your muscle groups, recovery times, and available equipment. Similarly, the Freeletics App offers personalized workout plans based on your goals, fitness level, and availability.
If personal training features are important to you, the Jillian Michaels App is an excellent choice. It offers custom meal plans and workout programs designed by Jillian Michaels, a NASM-certified personal trainer, ensuring that you receive expert guidance and support throughout your fitness journey.
By considering your preferences for live classes vs. on-demand workouts and customization options, you can make an informed decision about which fitness app is the best fit for you.
Consider Your Budget
Another essential factor to consider when choosing the best home workout app is your budget. Fitness apps come with varying pricing models, ranging from completely free to monthly or annual subscriptions. It's crucial to find an app that offers the features you want while fitting within your financial constraints.
For those looking for the best free workout apps around, the FitOn App would be my top recommendation as it provides a variety of workouts at no cost, making it easy to get started on your fitness journey without breaking the bank.
But if you're willing to invest in a fitness app, the creme de la creme apps are SWEAT App Jillian Michaels apps. These apps offer premium features, such as personalized workout plans, live classes, and expert guidance, at a monthly subscription or annual fee. Check if the app offers a free trial; that way, you can test the features before committing to a subscription. (Most of the apps on this list offer a free trial of some kind.)
Conclusion
The world of home workout apps offers a veritable buffet of fitness delights for every taste, budget, and workout preference. We've served up a diverse menu of the best fitness apps for you to sample and get your sweat on.
Now that we've whetted your fitness appetite, it's time to feast on the app that best suits your individual goals and desires. Whether you're a HIIT aficionado or a yoga connoisseur, there's an app to help you reach your home workout goals. Happy sweating!
FAQ
Can I really achieve my fitness goals using a home workout app?
Absolutely! I'm living proof; I've dropped 25 lbs through home workout apps alone and got into the best shape of my life. If I can do it, you can too!
Are free workout apps worth trying, or should I invest in a paid app?
Free workout apps can be a great way to get started on your fitness journey, my favorite of which is FitOn. However, they can be a bit basic; if you're looking for more advanced features, like personalized workout plans or live classes, you might consider investing in a paid app like FitBod, SWEAT, or the Jillian Michaels App.
Can I use multiple fitness apps simultaneously?
Yes, you can definitely use multiple fitness apps to target different aspects of your workouts or to keep things fresh and interesting. For example, you could use FitBod for strength training and YogaDownload for your yoga sessions.
Do I need any special equipment for home workouts with these apps?
Many of the apps I reviewed offer bodyweight exercises that don't require any equipment, or they have settings that let you indicate what equipment you have to work with.. However, always check the app's specific requirements before starting a workout.
Can I switch between apps if I find that one isn't working for me?
Of course! It's important to find the right app that motivates you and keeps you engaged in your fitness journey. If you try an app and find it isn't the right fit, don't hesitate to explore other options. With so many great fitness apps available, you're sure to find one that suits you perfectly.