Concept2 Rower Review – Is the Concept2 Rowerg Machine Worth the Investment?
My workout of choice used to be running and HIIT, but in recent years, I've needed a lower-impact way to get my sweat on. (Thanks, chronic migraines.) So around two years ago, I discovered the world of indoor rowers and the benefits one can bring to your fitness routine.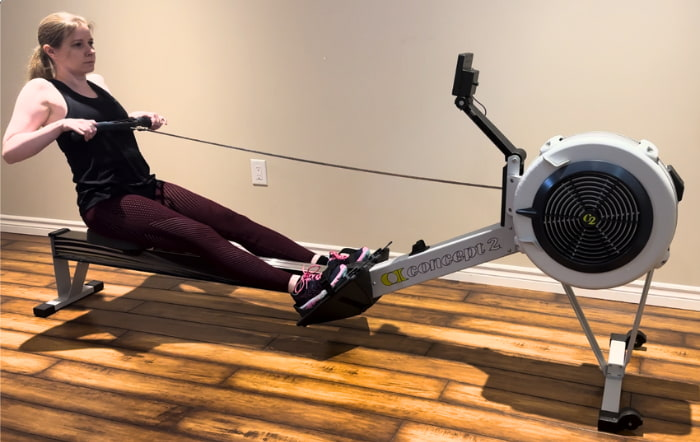 Rowing, as it turns out, is a fantastic, low-impact, whole body workout that is shown to boost cardiovascular health, strengthen muscles, and burn calories. My partner and I didn't want to get a gym membership, so we set out to find one for our home gym. My partner – who is extremely thorough when researching the best products – decided on the Concept2 Roweg Model D. He picked wisely! If you're interested in knowing more about this robust rower, read on for my detailed Concept2 rower review.
Disclaimer: Some of the links in this post are affiliate links. This means that, at no additional cost to you, I may earn a commission if you decide to make a purchase through these links. Full disclaimer here.
About the Brand
Concept2 has a history dating back to 1976 when Dick and Pete Dreissigacker, both Olympic-trained athletes, began creating composite racing oars. Their oars quickly became the top choice for worldwide, and they continued to innovate throughout the years.
In 1981, they introduced the Concept2 Indoor Rower, which has since become the best-selling rowing machine globally. It's used by Olympic athletes, cardiac rehab patients, fitness enthusiasts, and professional rowers of all skill levels.
Today, the company has over 100 employees and offers an expanded product line that includes oars, indoor rowers, the SkiErg, and the BikeErg. Despite its growth, Concept2 remains dedicated to providing innovative products and programs for its customers.
Concept2 Rowereg Overview
The Concept2 Model D with PM5 is an air rower that's ergonomically designed to deliver an effective cardiovascular workout at an affordable price. It is a commercial-grade rowing machine that's also suitable for a home gym. The Model D is constructed with aluminum front legs and steel rear legs, providing a sturdy and durable frame. The seat height is a comfortable 14-inch (36 cm), making it easy to get on and off.
The machine features a PM5 Performance Monitor, which can be pivoted to various positions, allowing you to adjust the height and angle for best visibility. It has a monitor arm that can also be tucked away for easy storage. The nickel-plated chain requires minimal maintenance, with only occasional oiling needed after every 40 hours of use.
It can accommodate a weight capacity of up to 500 lbs, and the spinning flywheel helps power the monitor, which helps extend battery life; you won't have to change the two D cell batteries very often!
Product Price
The Concept2 Model D with PM5 is competitively priced at around $1000 and can be purchased from Amazon. This price point seems high, but it's extremely good for a commercial-grade rower and offers excellent value when compared to other premium rowing machines on the market, some of which can cost up to $3,000 or more.
First Impressions
Assembly and Set-Up
When I first received the Concept2 Rowereg (Model D), I was pleasantly surprised by how easy it was to assemble. The rower came in two pieces in one box, and putting it together was a breeze. This was a huge plus for me, as I've had my fair share of exercise equipment assembly nightmares in the past.
Build Quality and Aesthetics
Upon initial inspection, I could tell that the Concept2 Rowereg was built to last. The combination of aluminum and steel materials makes it both durable and not too heavy. I also appreciated the front wheels, which made it convenient to move around. Although the rower's appearance might not be as visually appealing as some of the wooden water rowers available, it's clear that the focus is on performance and functionality.
Thoughts on Using the Concept2 Rowereg Rowing Machine
Performance and Noise Level
Having used Concept2 model d rowers at the gym before, I was already familiar with their commercial-grade quality. After using the Model D at home for two years, I can confidently say it is reliable rower that lives up to its reputation.
I find the machine a bit noisy. For instance, when my partner is using it in the basement, I can hear it from upstairs. It's not a big deal for us, but it might be for others. While the sound isn't annoying, it's audible enough that it might not be the best option for those who live in close quarters or in an apartment where you need to consider the neighbors.
The rowing action itself is very smooth, and damper settings on the flywheel makes it easy to set more resistance for a harder workout.
I'm only 5'4″ so I don't have to worry about length as much, but in case you are from the land of the tall legs, you'll be happy to know the stainless steel track accommodated my 6'3″ spouse too!
Comfort and Customization
The seat on the Concept2 Rowereg is somewhat hard, but the grooves make it comfortable enough for shorter rowing sessions. After using it for longer than 20 minutes, I do sometimes experience a little discomfort due to my super boney bottom. But it's not a big deal.
But if it's a real problem for you, there are seat pads pads available on Amazon that can make it more comfortable. The handle was comfortable enough, but with frequent use, I started developing calluses. This issue seems common with most rowers, and using workout gloves while rowing solved the problem for me.
Pre programmed Workouts and Personal Fitness Goals
The Concept2 model rowing machine offers various rowing programs, including options for 2000m, 5000m, 10,000m, 30:00 row, or 500m/hr. These programs are effective if you're training to hit specific goals. However, I usually prefer to free row.
The monitor is a bit basic, but it gets the job done. While rowing, you can track progress by time, split meters, average pace, and total meters rowed.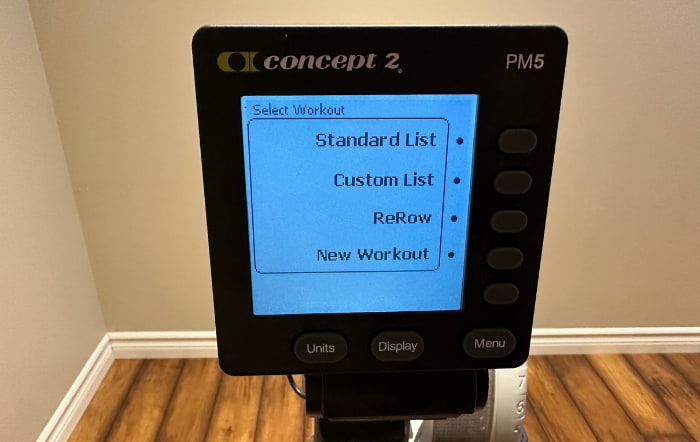 Who Should Get a the Concept2 Rower?
Rowing machines, or rowers, are incredibly versatile pieces of fitness equipment that cater to a wide range of individuals with varying fitness levels and goals. Whether you're a beginner looking to kickstart your fitness journey, an elite athlete seeking to improve your performance, or someone in between, rowers have something to offer for everyone.
Beginners and Joint-Sensitive Exercisers
Rowers are an excellent option for those who are just starting their fitness journey or prefer low-impact workouts. Rowing provides a full-body workout, engaging both upper and lower-body muscle groups while also providing a great cardiovascular challenge.
The low-impact nature of rowing makes it easier on the joints, reducing the risk of injury and making it more accessible to a broader range of people, including those who might not be able to engage in high-impact activities such as running or jumping.
Fitness Enthusiasts and Athletes
Rowers are not only suitable for beginners, but they're also a favorite among fitness enthusiasts and athletes. Rowing can be an intense workout that pushes your cardiovascular system, builds muscular endurance, and improves overall power and strength.
For athletes involved in sports like swimming, cycling, or running, incorporating rowing into their training program can help enhance their performance by targeting different muscle groups and providing a cross-training effect.
Weight Loss and Toning
If your goal is to lose weight or tone your body, rowing machines can be an excellent addition to your fitness routine. Rowing burns a significant number of calories, depending on the intensity of your workout, and it targets multiple muscle groups simultaneously, helping to build lean muscle mass. As you increase your muscle mass, your resting metabolic rate may also increase, resulting in more calories burned throughout the day, even when you're not exercising.
Rehabilitation and Recovery
Rowing machines can be a useful tool for those recovering from an injury or surgery, as well as for individuals undergoing physical therapy or cardiac rehabilitation. The low-impact nature of an indoor rowing machine allows for a gradual increase in intensity, which can be customized to the individual's needs and limitations. The smooth, controlled movement of an indoor rowing machine can help improve range of motion, joint stability, and muscle strength without placing unnecessary stress on the body.
Final Verdict
After using the Concept2 Rowereg for two years, I can confidently declare it as one of the best investments I've made in my fitness journey. When I used the Concept2 regularly, 2-3 times per week, I saw significant improvements in my cardiovascular health, including an increased VO2 max and a lower resting heart rate. I also noticed my shoulders and legs became more toned.
The Concept2 model D provides a really killer workout that torches calories like almost nothing else. I burned over 100 calories in 15 minutes – even when I only weighed 115 lbs. (The less you weigh, the fewer calories you burn per minute in a workout.)
Because it is such a tough workout, I do find that I tire faster on it than I do on the indoor bike or weight-lifting workouts. But 15-20 minutes per session is all I really needed to see results.
The performance monitor (PM5) allowed me to track my progress effectively, keeping me motivated to beat my previous mileage.
Best Concept2 Alternatives
While this air resistance rower is a fantastic choice, it's worth considering some alternatives before making a decision:
WaterRower Club Rowing Machine
The WaterRower machine uses water resistance to provide a more realistic rowing experience. It's also quieter than the Concept2 and has a beautiful wooden design that looks great in any home. However, it's a bit pricier than the Concept2 and weighs almost double.
NordicTrack RW900
If you're looking for a more robust display, the NordicTrack Smart Rower comes with a 22″ HD touchscreen with a 3-Day IFIT membership for on-demand workouts. The resistance mechanism is water and magnetic and similarly weighs a lot more than the Concept2.
Sunny Health & Fitness Magnetic SF-RW5515
The Sunny Health & Fitness SF-RW5515 is an affordable magnetic resistance rower. It has a much lower price point and a more compact design than the Concept2, making it a suitable option for those with limited space. However, the build quality and features aren't quite as the Concept2, and it might not last as long with heavy use. (If you need more budget options, check out my comprehensive review of the best rowers under $500!)
When considering alternatives to the Concept2 model, it's essential to weigh the factors that matter most to you, such as noise level, resistance type, design, and price. Each rowing machine has its own unique set of features, and the best choice will depend on your individual needs and preferences.
Concept2 Rower Review Conclusion
My journey with the Concept2 Rower model D has been filled with sweat, sore muscles, and personal milestones. This rowing machine has proven to be the trusty steed I never knew I needed in my fitness arsenal; it is my top pick of all home rowers.
With its sturdy build, impressive features, and ability to cater to different fitness levels, it's hard to find any reasons not to fall in love with this lean, mean rowing machine.
It's not only a reliable and sturdy piece of equipment, but it also offers a wide range of features standard workouts and options that cater to various fitness levels. From preset workouts to the ability to customize your own, there's something for everyone. Plus, the community aspect – such as online challenges and world rankings – adds an extra level of motivation and engagement.
However, the noise level might be a potential drawback for some users. If you live in a small place or have noise-sensitive neighbors, the sound generated by the air resistance flywheel might be an issue. And if you want an especially comfortable seat, you'll probably want to invest in a cushion, seat pad, or cover.
Overall, I believe the Concept2 Rowereg is an excellent investment for those serious about improving their fitness and looking for a durable, high-quality rowing machine.
Pros
Cons

High-quality, commercial-grade construction

Performance monitor (PM5) with extensive tracking features

Wide range of workouts, including customizable options

Strong community aspects, such as online challenges and world rankings

Suitable for various fitness levels

Easy to assemble, disassemble, and store

Noise level due to air resistance flywheel

Seat comfort might not be optimal for some users

Higher price point compared to some competitors

Large footprint might not be suitable for small spaces
FAQ
How does the Concept2 Rower compare to the water resistance?
Water resistance rowers provide a more natural rowing feel, mimicking the sensation of rowing on water. However, the Concept2 Rower, with its air-resistance flywheel, offers a smoother and more consistent resistance throughout the rowing motion than other rowers. Both types have their advantages, but the Concept2 is widely considered the gold standard among indoor rowers due to its accuracy, build quality, and performance.
Is the Concept2 Rowereg suitable for beginners?
Absolutely! The Concept2 Rowereg is suitable for users of all fitness levels, from beginners to athletes. The resistance is adjustable, allowing you to start at a level that feels comfortable and gradually increase the intensity as you progress.
Can I use the Concept2 Rower if I have limited space?
The Concept2 Rower does require some space during use, but it's easy to store when not in use. It can be separated into two pieces and stored vertically to save space. If you have a small apartment, it's still possible to use and store the rower, but you might need to be more creative with your space management.
How often should I clean and maintain my Concept2 Rower?
It's recommended to wipe down your Concept2 Rower after each use to remove sweat and dust. You should oil the chain every 40 hours of use or as needed. Keep the monorail clean and check for any loose parts periodically to ensure optimal performance and longevity.