Bodyboss Review – The Perfect HIIT Program for Your Busy Life
Prior to November 2017, the only kind of exercise routine I could stick to was running and yoga. I never thought I would try a hardcore fitness program like Bodyboss, let alone finish the program and write a Bodyboss review! 
But although running and yoga are both fantastic forms of exercise that helped me lose weight and vastly improved my life in different ways, they fall short in the body re-composition department.
In a recent post, I talked about the magic of HIIT or High-Intensity Interval Training. I was scared to try this type of exercise for the longest time. It seemed HARD, and I didn't know where to start.
Then I started seeing Bodyboss Method ads in my Facebook news feed and was curious about it. I read a few Bodyboss reviews from people who also previously shied away from HIIT but had seen success with this program. 
Finally, I bit the bullet and bought their online guide during a 20%-off Black Friday promotion. I began the program on November 25th, 2017, and finished on April 6th, 2018.
As I know there are many out there who are curious about the program, I thought I would share my experience with it. 
Note:
** My blog posts contain affiliate links, which means that I may earn a commission on purchases you make after clicking on those links. (At no extra cost to you!) Full disclosure here. **
[Updated May 16, 2020.]
Bodyboss Ultimate Body Program Overview
Bodyboss (one word, not body boss!) is a 12-week program. It also includes four bonus weeks of "pre-training" workouts for those who need to work up to the main program, which brings the total program up to 16 weeks.
Bodyboss claims to get you in the best shape of your life in no more than 24 active minutes a session. The actual program consists of three HIIT workouts a week.
Monday is Leg and booty day, Wednesday is arms and abs day, and Friday is a shorter "power-up" full-body session.
Tuesday is an "active recovery day", and Thursday is cardio day.
What Does Bodyboss Cost?
There are several options for purchasing the Bodyboss program:
The online edition costs $49.50 USD 

The print edition costs 65.90 USD (You can also check the price of the print editions available on Amazon!)

At the time of this writing, you can get both the print edition and online edition for 115.40 USD. So in other words, if you buy the print edition, you get the online edition too. 
However, they are constantly having sales and it seems to me you can almost always find the online & print bundle for the same price as the online edition. ($49.50)
In my opinion, this cost is pretty reasonable considering it's a one-time payment for 16 weeks of exercises. And if you factor in that you can just about always find a Bodyboss discount code on their site, it works out to be even cheaper. 
Shortly after I purchased the program, Bodyboss released a nutrition guide that is meant to be followed in tandem with the program. It is sold separately but you can buy them together in a bundle to save money. (You can even order the Bodyboss book bundle on Amazon and you'll probably get it faster!)
I had already started by then and I don't think I would have purchased the nutrition plan anyway.
I don't have the time or patience to spend every Sunday afternoon doing meal prep.
Therefore, my Bodyboss review will be strictly regarding the exercise program. I did not change my diet much, but was loosely tracking my calorie intake and focusing on getting as much protein as possible.
Another product they recently launched is Bodyboss Tone, which is a 6-week program that's designed to keep you challenged after you finish the original program. Right now there's only a print edition available, and you also need a gym membership to complete the workouts. (Not a fan of gym memberships so I took a pass on this one.)
The Claim
Bodyboss Method claims that it's 12-week program will quickly burn body fat and reinvent your body shape. Completing their HIIT workouts will enable the afterburn effect, (or excess post oxygen consumption effect, EPOC) which they've dubbed their "secret weapon" called the Boss Effect. 
In simple terms, these high-intensity workouts are meant to not just burn serious calories during your workout, but to continue burning calories for hours after you finish working out.
Their facebook ads are plentiful and typically consist of a positive Bodyboss review by a real woman, with footage of them doing the workouts and claiming they've seen results in as little as two weeks. 
The Format
There are three different ways you can do the workouts:
1. Using the hardcopy book showing all the exercises
If you prefer to use the physical copy of the program, you would keep the book open to the workout you're on and complete the exercises following the pictures.

The advantage is that you can scribble notes on the pages if you want, I noticed a lot of people from the Bodyboss Facebook community liked to do this.
The other advantage of course being, this is the only way you can complete the program without an internet connection.
Some people write notes with modifications, changing either how long the circuit is or how many reps they do for each move. 

2. Using the online version on your computer, mobile or tablet

The Bodyboss online edition is my favorite version of the program for a number of reasons.
Originally, the only edition was a simple dashboard with all each page of the book uploaded as a PDF. And when you clicked on the exercises and get short 2-3 frame animations of the exercises.
This is the option I used originally because the online version was cheaper than the book, and I liked being able to see the exercises up close and being able to arrow over to the next one. So keep in mind this Bodyboss review is based on this format.

3. Using the online version on your computer, mobile, and tablet and following along with the videos
Since the first time I did the program, Bodyboss added workout videos for all their workouts.
This is a great feature if you're used to video workouts where you can follow along with someone doing all the exercises with you. You don't have to worry about a timer, you just hit the play button and off you go.
The only downside to this is I noticed these girls are super fit and burn through the reps a lot faster than I could, so I often ended up having to cut my reps short in order to keep up.
In fact, in the later weeks I suspect they actually speed up the video in places in order for the girls to finish the reps in the allotted time.
Which I mean, come on. If these fitness pros can't even keep up, how do they expect us mortal women to? 
But I take it with a grain of salt and just do as many reps as I can, and move on to the next exercise when it's time.
Here's another consideration: Other than the voice that announces the exercise you're on, there are no instructions during the video. 
Bodyboss has always had a "DIY" vibe to it in this way, but if you're used to doing videos with the instructor talking the whole time about form, this might be a format you're not used to.
Sometimes I prefer this though. I can just crank up the music and focus on the workouts without having someone talk the whole time. 
Bodyboss' New and Improved Dashboard
Last year, Bodyboss unveiled its new and improved online version, which includes a far more robust dashboard. 
Now you can personalize your dash with a profile picture, fitness level, and fitness goals. There's also a section for you to record your progress with measurements and progress pictures.
You can access any programs you've purchased from either your dashboard or the sidebar. The video workout for the day is featured, with the PDF version still accessible below. 
Another nice feature is the ability to rate and comment on the workout. 
You can mark workouts complete as a way to bookmark your progress through the program. 
So while the online version is not an app per se, but it's the next best thing. 
My Experience & Bodyboss Review
Pre-training
I started off with the pre-training because week one looked intimidating and I wanted to ease into the program. Since I could get the pre-training exercises done in 15 minutes, I decided to cram five days of workouts into three by doing them right after my cardio sessions.
Although it was doable, in retrospect I don't recommend this approach. After my second session, I almost passed out in the gym change-room from overexertion. 
Even the pre-training workouts were way harder than I expected. I felt disappointed in myself that I couldn't complete some of the exercises without modifying them to be easier.
That being said, I think I would have had more success if I'd spread the exercises out over five days from the beginning. 
Weeks 1-6
Starting the first week of the actual Bodyboss program was a bit of an adjustment, as the workouts go up to three circuits instead of two, and I could no longer fit them in with my cardio. (FYI, if you hate running or biking, there are other cardio workouts you can do to get your heart rate up without running or exercise bikes.) 
I went from working out 3 days a week to 5. I confess that I often skipped the Friday power-up. Each workout was tough, but not so much that I couldn't get through it. 
After the sixth week, I went on vacation with my family to Turks & Caicos, where I ate pastries and drank Mojitos like it was my job. I forgot all about HIIT. 
This deviation from the program derailed my motivation a bit, and it took me a couple weeks before I was able to jump back in. I redid week 6 before moving on to the last half of the program.
Weeks 7-12
Things got real on week 7. These workouts consist of 8 exercises instead of 7, and each circuit allows 8 minutes instead of 7. There is also a lot more plyometrics, (jumping) which sucked tremendously. My quads are burning just thinking about it.
This is where the "24 active minutes" claim really falls apart. From week 7 onward, it took me upwards of 45 minutes to complete each session. You could just stop when the timer is up, but if you did that you might never get to the last exercise or two in the circuit. 
That's not even including the warm-up or cool down. This was the first time in the program I felt like giving up. Commiserating with the online Facebook community really helped get me through weeks 7 and 8.
By week 10 I had adjusted to the intensity but was still modifying and going overtime right to the end. It pushed me to my limits!
My Bodyboss Results – Before & After
This is the part of the Bodyboss review that you probably care about most: the results!
After finishing 16 weeks of the program, I had lost about 5 pounds. It isn't a lot, but it's about what I'd expected since my focus was less on losing weight and more on toning up.
I did lose approximately two inches each from my bust, waist, and hips. For the first time in five years, I was able to wear size 6 pants again. I definitely see and feel more muscle tone and can do exercises I've never been able to do before, like full push-ups and jackknives. 
In fact, I was so happy with the results that I went through the program a second time! I'm still continuing to see results in my strength and muscle tone. I can safely say I am in the best shape of my life!
Disclaimer: Below before and after photo is not immediately before or immediately after my completion of the Bodyboss Method. There are two years between the two pictures, but the Bodyboss program has a lot to do with my transformation. And it taught me how to make HIIT a part of my lifestyle.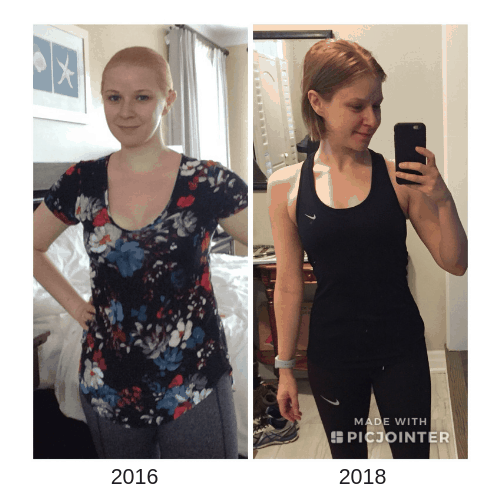 Bodyboss Review Summary
Like for any program, this Bodyboss review contains pros and cons:
Pros
Highly effective. Put in the work and you'll see results.


Easy to follow. You don't have to waste time figuring out what exercises to do, everything is laid out for you on a day by day basis. The pictures show you how to execute each exercise, with detailed instructions at the back of the book.

Multiple platforms. Whether you prefer going off the hard copy, looking off your phone/tablet, or following along with the exercise videos, the options are there!

Not much equipment required. Although I already had a bench which came in handy, you could easily make do with a sturdy chair or coffee table. For the box exercises, I simply used the first step of my staircase. Dumbbells are easily substituted with soup cans or books.

Low cost: To say you get 16 weeks of pre-planned exercises that are done without going to the gym, I'd say it's more than worth the one-time fee.
Cons
Slightly misleading in terms of time investment. Pre-training and the first half of the program are completed in 20 minutes or less. But once you get to week 7, give yourself at

least

40 minutes to do the exercises.

I don't care what anyone says. There is no way you are doing those exercises in 24 minutes unless you're already in really, really good shape!

If you use the online version, it's a bit tedious/time consuming to load up their website, log in, then scroll through to the exercise you're looking for. They should make an app! 

No modifications readily available: Despite the pre-training, there were some exercises in the program I simply couldn't execute. Or I could execute only 5 reps with decent form when the workout calls for 40 reps. I think this is important because I can see some people getting discouraged and giving up. Fortunately, I stumbled onto the online Facebook community. I quickly learned that it was completely normal and okay to modify the exercises as needed.

Although you can expect dramatic results if you put in the work, I think they set the expectations just a little too high. For example, If you're expecting to get rock hard abs from this program, you will probably be disappointed. (That's because getting abs is super hard and diet plays a huge role in it!) 
Overall, I highly recommend the Bodyboss Method if you're looking for an efficient way to get in shape. In my opinion, it really does live up to being the "Ultimate Body Guide."  So if you've ever asked yourself, "Do home workouts really work?" then this program answers with a resounding "YES."
But, you have to do the work!
The benefits extend beyond the 12-week program. By the time you finish, HIIT will have become part of your lifestyle.
Bodyboss vs. BBG
If you've been searching for online fitness programs a while, you've probably noticed ads for this other program called BBG or Bikini Body Guide. This is a comparable program in terms of workout-type (Shorter HIIT workouts), but there are several big differences in format and price. 
If you're trying to choose between the two, I would personally recommend Bodyboss simply because it's a cheaper introduction to HIIT programs. But I don't think one is really better than the other. It's more about what you're looking for in a fitness program. 
I did BBG via the Sweat App and wrote a full review on the program here if you want to read through it for comparison purposes:
BBG & Sweat App Review: Is the Subscription Worth It?
I may do an in-depth side-by-side review down the road. If this is something you'd be interested in seeing, let me know!
Other Alternatives
If you're looking for a highly effective workout program that you don't have to pay a monthly subscription for, Bodyboss is definitely the program for you. 
However, if it doesn't sound quite your speed, there are a couple of other good alternatives besides the Sweat app. 
Jillian Michaels' My Fitness -I love love love this app! With seemingly an endless supply of workouts and fitness programs available for a low monthly subscription fee, you just can't go wrong! Full review here.
Aaptiv – If you love audio-guided workouts so that you don't have to stay focused on a screen all the time, this is the app for you. Full review here. 
If dancercise is more your speed, then check out my review of Figure 8 Fitness. 
What did you think of this Bodyboss review? Have you tried the program? Share your thoughts or questions in the comments!
P.S. Do you hate exercise or have no motivation? I wrote this comprehensive guide to conquer your lazy and getting your fitness motivation on! Click here to check it out!
Quick FAQ!
What is the Bodyboss Method?
The Bodyboss Method is a 12-week program. It includes four bonus weeks of "pre-training" workouts for those who need to work up to the main program. BBM claims to get you in the best shape of your life in no more than 24 active minutes a session. The actual program consists of three HIIT workouts a week.
What Does The Bodyboss Method Cost?
The list price for the online edition is $49.50 USD and the print edition is 65.90, with a bundle edition usually being offered at a discount. The prices change so check the website for the most current pricing.