11 Resume Tips to Keep Your Application From Getting Passed Over
I know resume tips aren't that exciting, but lets talk about it anyway. Because although few people enjoy writing resumes, no one enjoys reading them either.
I sure didn't, back when I used to vet and hire candidates.
Hiring managers typically sort through hundreds of resumes per position. It's overwhelming to say the least. To carefully peruse each one is simply out of the question.
That's why the average read time per resume is 6 seconds. 
That's right, you have exactly 6 seconds from the time your potential employer opens the attachment with your resume before they decide if they will print or move on to the next one.
You can barely even call that a preliminary skim. 
So if you want to make it to that coveted shortlisted pile, you need to stand out quickly and in the right way.
** My blog posts contain affiliate links, which means that I may earn a commission on purchases you make after clicking on those links. (At no extra cost to you!) Full disclosure here. **
One of the best ways to ensure your resume is optimized for success is to hire a reputable resume writing company to professional write your resume.
But if you have to DIY it, here are my top 11 resume tips to keep your C.V. from getting passed over.
1. Use the right layout
These days you can find hundreds of templates online for free, so there's no excuse for a sloppy-looking resume.
The downside is, there's hundreds of templates. So which one is right for the job you're applying for?
It isn't the easiest question to answer, because it really depends on who you are and who the company you're applying to is.
For example, if you're applying somewhere highly corporate, I would definitely stick to a minimalist, straight forward design. But if you were applying for a creative role or a company where the workplace culture values creativity, you might go with something a little more colourful and adventurous.
Colour can help you stand out against a monochrome stack, but use it sparingly and avoid anything too bright. Navy blue is a safe pick.
I am not a fan of including a photo of yourself on your resume because what you look like shouldn't be an influencing factor on whether or not they call you for an interview. (And if it is, is that really somewhere you want to work?)
However, if you are applying for a virtual or remote job, you could include a headshot since you aren't likely to be meeting the interviewer in person. It helps them see you as a real person and not just "someone I don't know on the internet".
You're not stuck with Word templates either. You can also find some great free ones on Google Docs and Canva.
Below is an example of two totally different layouts. On the left I would use for remote/creative positions and the right is a minimalist design that would be better suited to a corporate job. You can find both templates on Canva.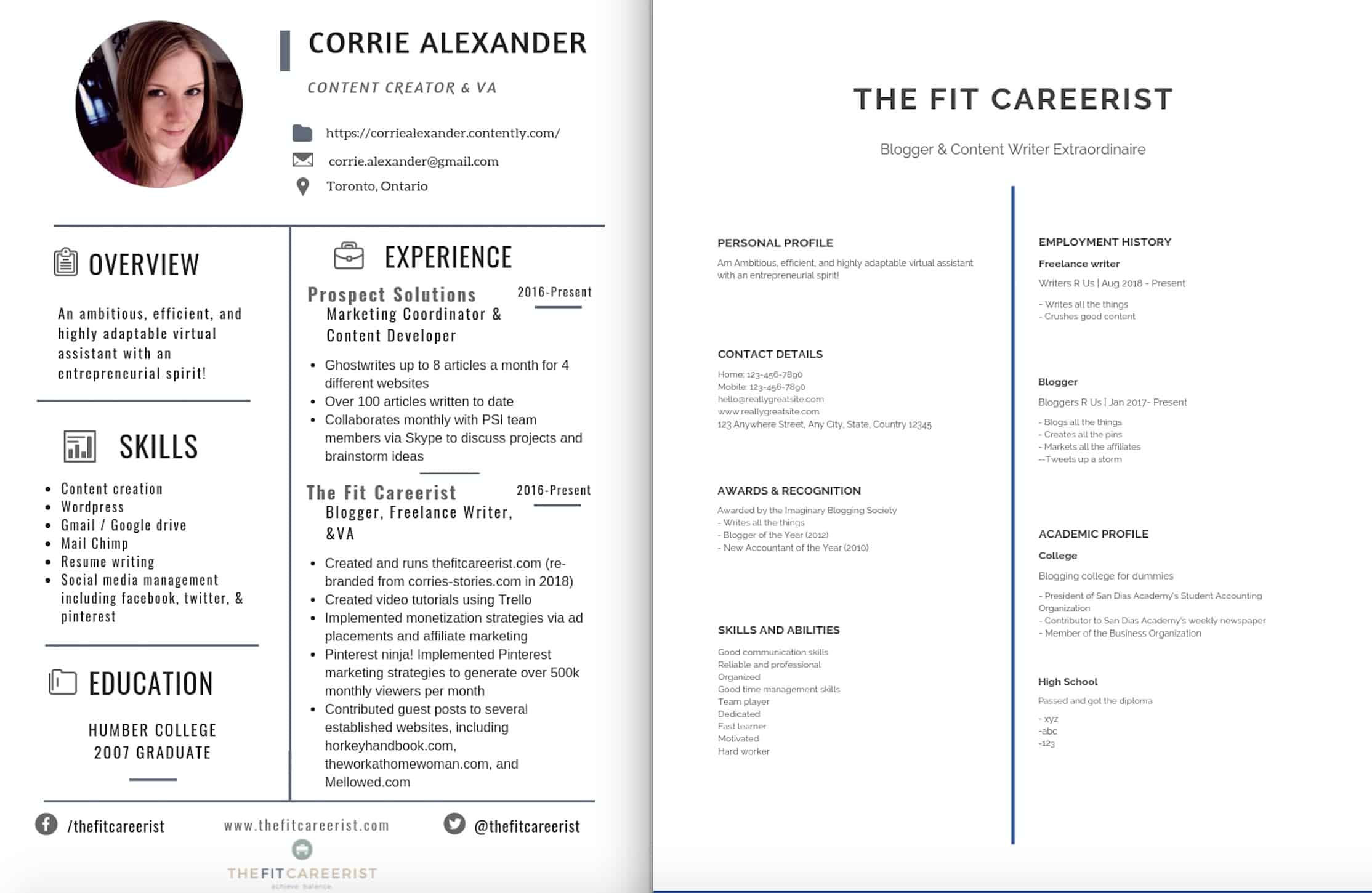 2. Have a killer opening profile summary
The first 2-3 lines of your resume has got to be a show-stopper. Personally, I'm not a fan of the "Objective" line. Your employer already knows you want a job. Skip the redundancy and jump right into what you're about with an effective profile statement.
It needs to be a concise snapshot of who you are, what you're about, and scream "I'm the one you want to hire" all at the same time. 2-3 sentences max.
Your profile statement should capture your experience and your specialty. There should also be an adjective in there that gives the employer just a hint of a glimpse of your character – something that makes them want to read more about you.
Then include another one or two sentences not on why you want the job, but how your expertise can make a difference to them.
Which one sounds better to you?
Objective: To obtain a customer service position where I can use my retail skills and grow my experience.
Vs.
Profile: A dedicated customer service representative with 10 years experience in retail, specializing in problem-solving and conflict resolution. Seeking a position with xyz company to use my negotiation skills for increased customer satisfaction.
The word "dedicated" is a soft-skill word, but gives them just the tiniest glimpse of what you're about.  You've listed your years of experience and what you're top skills are. Then you've gone on to identify how you are going to make a difference in their company.
All in two sentences.
3. Showcase your soft skills
Some people seem to think soft skills are a waste of resume real-estate, but when I see a C.V.  with no soft skills on it, it leaves a noticeable gap.
Having a snapshot of someone's characteristic attributes can make a huge difference because most (smart) companies don't just hire for talent, they hire for culture fit, too.
That being said, keep your soft skills section to no more than five bullet points. Here's an example:
Highly adaptable – comfortable assuming multiple roles as needed

Proven leadership abilities

Critical thinker and problem-solver

Master multitasker and efficient at managing high volume workloads

Experienced in negotiation and conflict-resolution
Related: 4 Hard-Hitting Soft Skills for Career Success That Should Be On Every Resume
4. Keep it clean
Remember, you have 6 seconds to make the "keep" pile. If they open the attachment and see a wall of text, they're moving on to the next one instantly.
Trust me on this.
Leave lots of white space and your entire resume should be in bullet point form. Keep it to no more than two pages long.
See that stock photo I used for this article? It looks like a friggin' novella. I would skip to the next resume by second two.
5. Avoid jargon and pretentious language
It's a bad idea in most situations, but especially so on your resume. Write plainly. 
That also means omitting vague acronyms and industry slang.
There are three reasons for this: First, it doesn't make you sound as smart as you think it does. And if you end up using it in the wrong context, it has the opposite effect.
Second, it's important that your prospective employer actually understands what you did at your past jobs.
Third, jargon and long words take up precious real-estate on your resume, which as we just discussed, should be concise as heck.
6. Customize your submission 
Tailor your experience specifically to the job and company you're applying for.
I'm a firm believer that every resume you send should be a snowflake; No two submissions are exactly alike because no two companies you apply to are exactly alike.
That's not to say that every resume needs to be drafted from scratch. You can certainly have templates for each type of role you're applying for. But then you need to tweak the heck out of it until it's in sync with what that specific company is looking for.
Do your homework on the company you're applying to and zero in on their mission and values.
7. Use keywords
Keywords aren't just for SEO! (Blogging nerd alert!)
Take keywords from the job description and from the company's website. These are words that capture the spirit of the company and what they look for in their employees. Work these words into your resume so that they are directly related to your experience.
So if the job description is looking for a "self-starter", guess what term should appear on your resume? (Because I know you're a self-starter! 😉 )
You can even go one step further and put certain keywords in bold so that they immediately jump out at the reader.
8. Toot your own horn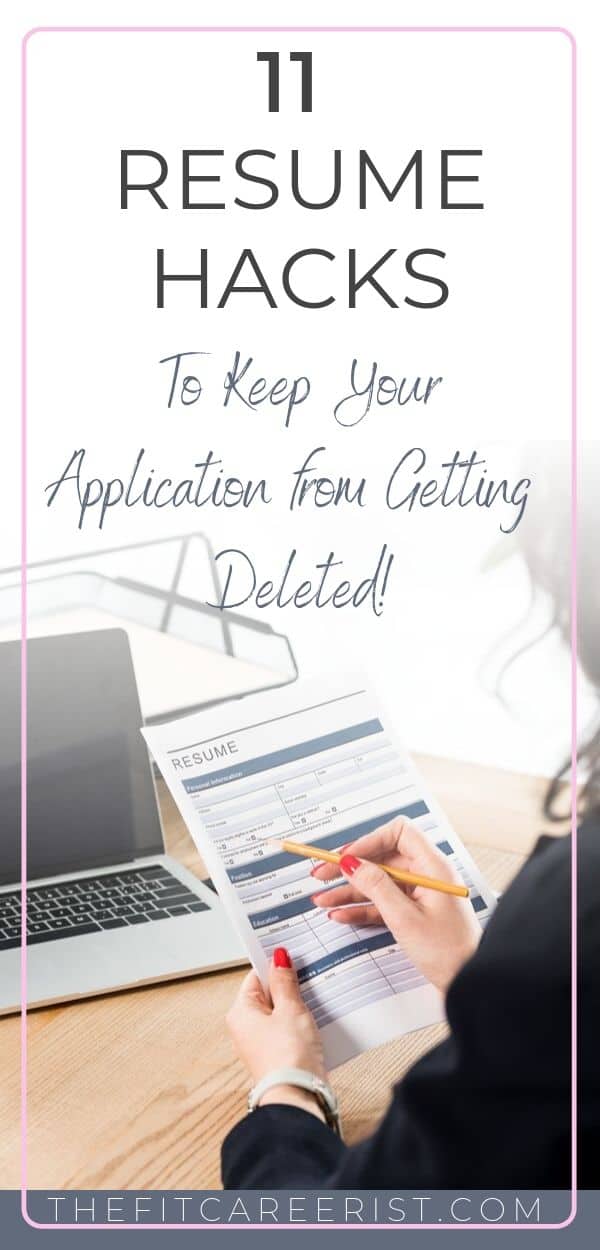 This might be my best of all resume tips: You need to sell yourself. Your resume is not the place to be modest. Don't just put bullet points of what you did at your last job. List what you accomplished.
You want to quantify your accomplishments using measurable data like statistics and percentages. For example, in your last role you didn't just improve turnaround time, you improved it by 60%.
It should go without saying, but only use this tactic if you can back it up. So if your interviewer asks how you improved it by 60% you can recite exactly how you calculated that number.
Which brings me to my next point:
9. Be honest
You probably don't have tell them about the time you got fired from the Pita Pit fifteen years ago as a teenager, but don't try to fill in gaps on your resume with fiction.
If you did take a break from work for any reason, it's okay to leave these gaps between jobs on your resume. Just be prepared to answer questions about them in your interview.
10. Don't skip the cover letter
It's astonishing how many job-seekers skip this step. My opinion has always been, if you're too lazy to write even a basic cover letter for your resume, then you're too lazy to work for me. A candidate who doesn't write a cover letter is a candidate who doesn't want the job badly enough.
I'm not alone in this opinion; Many companies use the cover letter as a quick vetting tactic – if there isn't one, it gets deleted.
Your cover letter doesn't need to be a novel, but it should give a snapshot of who you are, why you're applying, and why they should read your resume. You can find some great examples of cover letters over at jobscan.co.
11. Proofread
One typo will likely result in the instant demise of your application. There's absolutely nothing worse than hitting the "send" button only to notice a typo one millisecond later. (Been there, done that. UGH!)
This is the one time I would let your inner-perfectionist out. Proofread that sucker ten times to ensure no spelling or grammar errors have gone unchecked.
Go do something else for a few hours, then come back and proofread it another three times.
Then give it to a friend or family member for one last once-over.
It sounds like overkill, but trust me, it isn't.
Making the "Shortlist Pile" with these resume tips
Following these resume tips will help you get past those vital six seconds and hopefully make your potential employer's shortlist pile. Make that pile and they will certainly contact you for an interview!
If you're still struggling with fine-tuning your resume, you can also look into resume writing services to help turn your C.V. into a well-polished, job-landing document.
In the meantime, check out some of these related articles for more career tips!
Top 3 Career Mistakes That Are Holding You Back